Innovation
Awarded Project in 2019
Expand
Project "A REVOLUTIONARY SYSTEM FOR PRUNING AT HEIGHTS"
The R&D project developed by FCC MEDIO AMBIENTE, S.A. entitled "DESIGN AND DEVELOPMENT OF ADVANCED URBAN PRUNING SYSTEM", with file number IDI-20190100, has been co-financed by the Centre for Technological and Industrial Development (CDTI), a body that reports to the Ministry of Science and Innovation, and the European Regional Development Fund (ERDF) through the Multi-regional Operational Programme for Intelligent Growth.

One of the essential activities for the optimal conservation of urban green spaces is pruning work. Trees in urban environments are subjected to stressful situations that result in the need to carry out special treatment that is different from that practised in other, more favourable growing conditions. Pruning work in road and urban environments has been carried out for years in the same rudimentary, manual way, and is characterised by great danger, both due to falls by operators and mishaps with tools.
FCC MA, as part of its business strategy, has developed this R&D project with the technical objective of designing and developing an advanced system for pruning urban trees with vision cameras that allow the operator to see different points of view of the branches to be cut and optimise the cutting operation.
The project has lasted 18 months and has had the collaboration of the University Institute of Automation and Industrial Informatics (ai2 Institute) of the Polytechnic University of Valencia (UPV) located in the Polytechnic City of Innovation.
Awarded Project in 2017
Expand
Project "ONE MORE STEP IN VISION AS A MANAGEMENT TOOL IN THE GIRONA CONTRACT":
The project mainly involved the development of computer applications for reports and queries that enable much more information to be gathered from the services in much less time. Moreover, it offers an innovative approach to the citizen, real-time knowledge of the services provided and their simple comparison and follow-up with the planned services.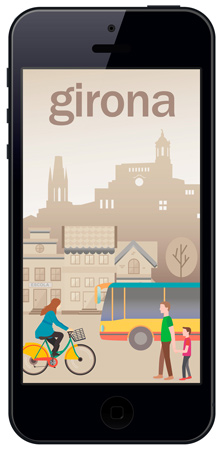 Mobile application of VISION in Girona