14/11/2023
FCC Medio Ambiente incorporates the innovative 100% electric tanker into Madrid's cleaning service
This revolutionary design technology adapts to the special needs of the city with a width reduced to just two metres, 18 tonnes MAM and 9 m3 capacity, and drastically reduces noise and pollutant emissions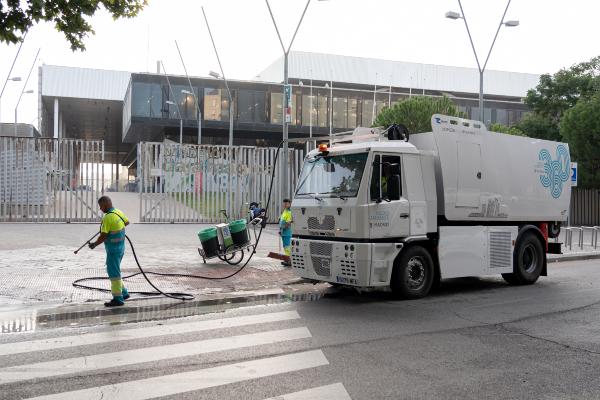 FCC Medio Ambiente has successfully completed the implementation of new electric vehicles in Madrid's street cleansing service, including 18-tonne tankers with a special width reduced to two metres. As part of FCC Medio Ambiente's commitment to support its customers in achieving their sustainability goals, these new tankers are fully aligned with the Madrid 360 Comprehensive Environmental Sustainability Strategy.
These vehicles have been custom-designed and manufactured for the capital's watering and washing-down services through an initiative led by FCC Medio Ambiente in collaboration with national vehicle manufacturer UROVESA, European battery manufacturer LECLANCHE and several prestigious national bodywork builders.
This is a series of totally innovative tankers designed by FCC Medio Ambiente, specifically adapted to the morphology and needs of the streets of Madrid. They are fully electric heavy vehicles with zero direct emissions of polluting gases and CO2 during the course of their work. Noise emissions are also drastically reduced compared to fossil fuel vehicles. Its overall configuration makes it possible to reduce the environmental impact and inconvenience of the service for the people of Madrid to the minimum technically feasible.
Both state-of-the-art batteries and the electric drive system of the vehicles have been defined by the company based on its decades of experience in the provision of cleaning services and the application of electromobility technologies.
For the first time ever, the watering and spraying bodies also incorporate tanks made of a copolymer material that offers advantages in terms of mechanical resistance, weight reduction and optimisation of the geometry, maximising water storage capacity.
Picture of the vehicle - Source Equipamiento y Servicios Municipales Magazine