FCC Medio Ambiente obtains the 2021 'Compenso' seal granted by the Spanish Office for Climate Change
01/12/2022
FCC Medio Ambiente obtains the 2021 'Compenso' seal granted by the Spanish Office for Climate Change
This is the second consecutive year the company has been awarded the third scope of the 'Calculo-Reduzco-Compenso' seal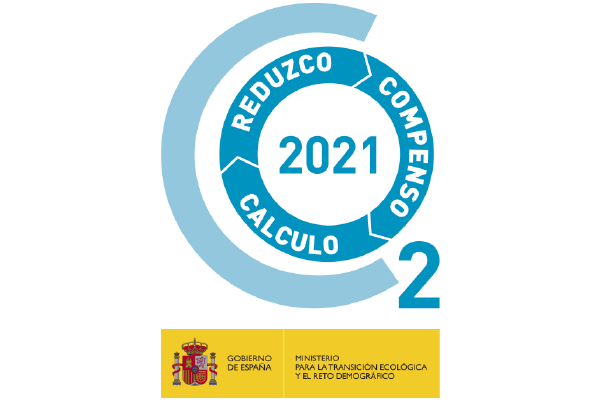 FCC Medio Ambiente continues to fulfil its commitment to reducing the carbon footprint established in its 2050 Sustainability Strategy and has obtained the "Compenso" ("I compensate") seal for 2021 and second consecutive year. This third scope completes the "Calculo-Reduzco" ("I calculate – I reduce") seal, obtained in this same year and in previous terms, granted by the Spanish Office for Climate Change. This seal is part of the "Carbon footprint registration, offsetting and CO₂ absorption projects" process established by the Ministry for Ecological Transition and Demographic Challenge, a process in which FCC Medio Ambiente has been participating without interruption since 2013.
The 'Calculo-Reduzco-Compenso' seal is awarded to organisations that calculate and register their Carbon Footprint for a minimum of four years, have a plan for reducing their emissions, make effective their commitment to reduction and take part in an absorption project. This year, FCC Medio Ambiente has achieved the 'Calculate, Reduce and Compensate' seal for scopes 1+2 and 3, which include emissions associated with fuel consumption, management processes, waste recovery and disposal, and from the purchase of network electricity. On this occasion for this scope, the company has managed to reduce 2.94% of the average emission intensity in the 2019-2021 three-year period. To achieve this reduction, FCC Medio Ambiente is working on key aspects in the fight against climate change such as: the sustainability of its vehicle fleet, improvements in waste treatment facilities, the generation of renewable energy and the purchase of energy with guarantee of origin.
In order to offset its carbon footprint, FCC Medio Ambiente collaborates with the company Bosques Sostenibles on a certified reforestation project over the next 40 years of an area of 40 hectares located in the Monte de Utilidad Pública nº 60 "Valle de Iruelas", which belongs to the Mancomunidad Asocio de Ávila and is included in the Natural Reserve of the same name. This area, which is home to one of the most important colonies of black vultures in Europe, was burnt down in 2019 and urgently needed to be restored in order to halt erosion and re-establish the regulation of the hydrological cycle. The chosen area allows for the replanting of up to 80,000 trees, including Scots pine and birch trees.
Moreover, by supporting this project, FCC Medio Ambiente partially offsets its carbon footprint and seeks to boost the environmental axis of its 2050 Sustainability Strategy, aligned with the Spanish Long-Term Government's Decarbonisation Strategy (ELP2050) from the Spanish government. This 30-year horizon strategic plan reflects the company's commitment to support the achievement of the Sustainability Development Goals (SDGs) and face financial, social and environmental challenges on a global scale.
Bosques Sostenibles is a company dedicated to the generation of environmental and social benefits. Its work in planting, conservation and maintenance of forestry projects promotes the preservation of biodiversity and acts in the fight against climate change.