11/01/2023
FCC Medio Ambiente renews the waste collection contract of the Sasieta municipal association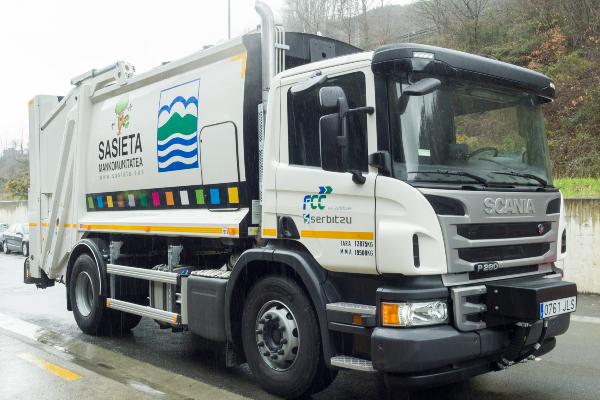 The Sasieta municipal association (Gipuzkoa) has renewed its trust in FCC Medio Ambiente with the award to the Goierri Bilketa joint venture, led by the company, of the new solid urban waste collection contract for nearly €40 million for the next 10 years. FCC Medio Ambiente's relationship with the association, which is made up of 22 municipalities from the province of Gipuzkoa, dates back to 1993, providing the service uninterruptedly since.
To serve the more than 70,000 inhabitants of the association and collect around 20,000 tonnes of waste from the different fractions, the service boasts around 40 people and a fleet of 17 vehicles, including several electric ones, to which 11 newly acquired lorries powered by compressed natural gas (CNG) will be added. The commissioning of these gas vehicles responds to the Association's commitment to sustainability, and their fight against climate change and care for the environment. To this end, a CNG substation will be built on a plot adjacent to the headquarters of the contract.
Latest features of the new service include an increase in the frequency of organic waste collection, from three to four services per week, as well as an reinforcement of the bulky waste collection. It should be noted that all containers for residual waste, biowaste and nappies have electronic locks installed, which will promote an increase in recycling and a reduction in the percentage of unwanted waste, as well as raise public awareness of the correct segregation of waste.
In the municipalities of Ataun, Itsasondo, Segura and Zaldibia, the "door-to-door" collection system will be carried out simultaneously with the rear-loading container collection. Finally, annual and timely communication and public awareness-raising action plans will be conducted.
The comprehensive management of the services will be carried out by implementing new applications of the VISION digital platform, developed exclusively by FCC Medio Ambiente, which enables the control, monitoring and optimisation of works, from the preparation of the most suitable itineraries to the reception and management of incident reports, as well as personnel control and vehicle maintenance tasks and real-time interaction with residents' requests.