FCC Medio Ambiente renews its accession agreement to join the Spanish Business and Biodiversity Initiative (IEEB)
25/05/2023
FCC Medio Ambiente renews its accession agreement to join the Spanish Business and Biodiversity Initiative (IEEB)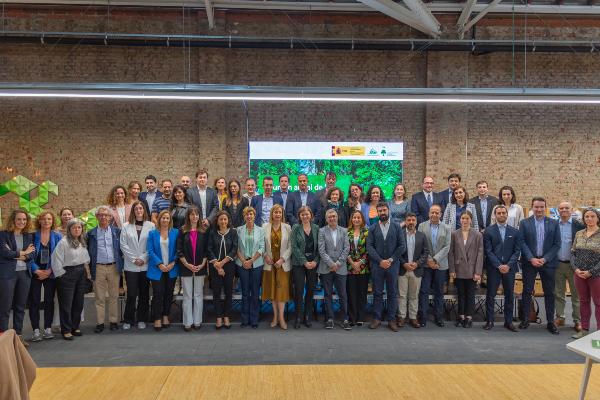 Coinciding with the 10th anniversary of its launch in 2013, FCC Medio Ambiente has renewed its accession agreement to join the Spanish Business and Biodiversity Initiative (IEEB in Spanish), a public-private collaboration platform that seeks to involve the business sector in improving and maintaining biodiversity and natural capital, coordinated by the Biodiversity Foundation of the Ministry for Ecological Transition and the Demographic Challenge (MITECO).
The renewal, which was presented yesterday 24 May at the annual IEEB meeting held at the foundation's headquarters in Madrid and attended by the Secretary of State for the Environment, Hugo Morán, seeks, through a new membership model, for the signatory companies to publicly endorse the objectives of the Kunming-Montreal Global Biodiversity Framework and to express their degree of ambition with actions to be implemented in the next two years.
FCC Medio Ambiente boasts among its sustainability commitments, set out in its 2050 Sustainability Strategy, the protection of natural capital in the management of its services, understanding cities as "ecosystems" home to "urban biodiversity". FCC Medio Ambiente's adherence to the IEEB is a firm boost to this 2050 Sustainability Strategy, a 30-year business development roadmap that integrates very demanding objectives and commitments with high added value for the company and society as a whole. More specifically, it means a further step towards fulfilling the commitments of the environmental axis in the field of biodiversity, such as the development of a staff training plan to raise awareness of the importance and value of biological diversity, or the promotion of the implementation of initiatives related to biodiversity in ground maintenance contracts through the development of action plans in certain green spaces, the drawing up of a catalogue of best practices in the management of green areas and collaboration with prestigious entities or associations in this domain.