14/07/2023
FCC Medio Ambiente participates in the LUCRA European project to produce succinic acid from waste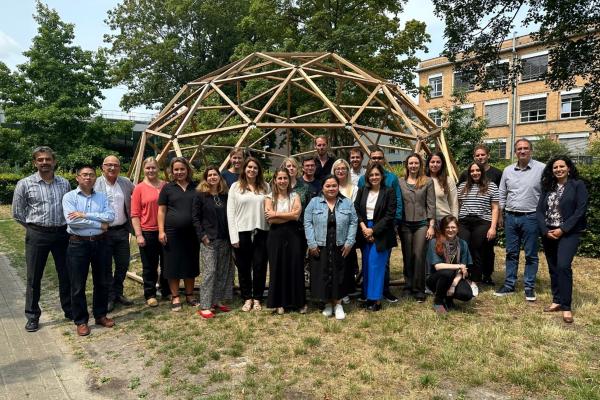 Last week took place in Ghent (Belgium) the launch of the European research project LUCRA "Sustainab(L)e s(UC)cinic acid production using an integ(RA)ted electrochemical bioreactor and renewable feedstock" in which FCC Medio Ambiente will participate from its R&D I+Dehesas centre, located at the Las Dehesas Biomethanisation Plant (Madrid).
The project has been funded by the Circular Bio-based Europe Joint Undertaking (CBE JU), whose role is to competitively boost Europe's bio-based circular industries and will have a total budget of €5.7 million for a duration of 48 months. LUCRA aims to demonstrate an innovative process to turn the organic fraction of municipal solid waste (MSWOF) and wood waste into bio-based succinic acid. It is set to revolutionise the bio-based industry by providing a sustainable and cost-effective solution to meet the growing demand for this versatile product in the food, pharmaceutical, cosmetic and chemical industries.
The research will be conducted by a European consortium led by the Bio Base Europe Pilot Plant (BBEPP) in Belgium and, in addition to FCC Medio Ambiente, will include the following partners: Covestro (Germany), Athens University of Agriculture (Greece), Consiglio Nazionale delle Ricerche (Italy), Ghent University (Belgium), Montinutra OY (Finland), Steinbeis Innovation GGMBH (Germany), Hydrohm (Belgium); and Ineuvo LTD (UK) as an associated company.
The role of FCC Medio Ambiente will be to optimise a thermal hydrolysis pre-treatment of MSWOF to produce a nutrient-rich hydrolysate at the Las Dehesas Biomethanisation Plant, located in the Valdemingómez Technological Park and currently responsible for the treatment and recycling of 100% of the selective organic fraction collected in the city of Madrid. This hydrolysate will be supplied to other project partners to be used as fermentation input in an electrochemical membrane bioreactor for the production and extraction of succinic acid (SA).
Most succinic acid is produced by petrochemical means. However, in the last decade the biotechnological production of said acid has gained more interest due to both economic and environmental aspects, increasing its production by more sustainable means, such as fermentation of renewable substrates like sawdust and MSWOF.
LUCRA will provide a breakthrough in the efficient and sustainable production of succinic acid by using these low-value waste streams with the aim of diversifying the range of chemicals produced in the European Union and reducing its dependence on fossil resources. The project hopes not only to improve the sustainability and competitiveness of the European chemical industry, but also to strengthen the economic position of various market sectors such as the forestry, chemicals and industrial ones.
Nicoló Giacomuzzi-Moore, Executive Director ad interim of the CBE JU, said: "This project is a great example of how CBE JU-funded initiatives advance sustainable and competitive bio-based industries. By setting up innovative bio-based processes and value chains, LUCRA will unlock the potential of sustainable biomass and reduce CO2 emissions compared to traditional production methods, which will help strengthen Europe's sustainability."
"We are excited to kick off the LUCRA Project as a significant contribution towards a more sustainable chemical industry" claimed Tanja Meyer, LUCRA project coordinator and senior project manager at Bio Base Europe Pilot Plant.
"The project is a breakthrough in the biorefinery sector because it will enable a new application of solid urban waste to promote a more efficient society focused on the circular economy," stated Javier Cerezo, FCC Medio Ambiente's Head of Recycling and Waste Treatment.
Las Dehesas Biomethanisation Plant was designed and built in 2006 by the FCC Group and has been managed by FCC Medio Ambiente for the Madrid City Council since its commissioning in 2008. It currently receives more than 230,000 tonnes of organic waste per year and produces nearly 24 million cubic metres of biogas through anaerobic digestion. FCC Medio Ambiente manages 24.6 million tonnes of waste a year and boasts more than 800 operational waste management facilities, of which more than 200 are environmental compounds dedicated to waste treatment and recycling.