07/11/2023
FCC Medio Ambiente renews its commitment to the city of San Sebastián
The company is awarded the new waste collection contract
All vehicles will be newly purchased and sustainable, 40% of them fully electric
The new service aims to achieve 65% recycled waste by 2035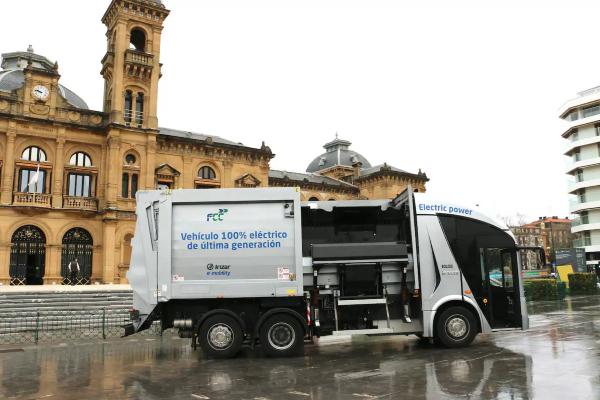 San Sebastian City Council has awarded the new contract for the collection of solid urban waste of the city to the RSU Donostia joint venture, led by FCC Medio Ambiente. The service, which the company has been providing uninterruptedly since 1990, represents a portfolio worth €67.3 million for the next 10 years.
The new contract, which will serve more than 187,800 Donostians, implements 33 newly acquired sustainable vehicles, 40% of which will be 100% electric, and will incorporate several units of the multi-award-winning ie-Urban truck, on the industrial chassis-platform for electric mobility for urban services developed by FCC Medio Ambiente. These new vehicles will entail a drastic reduction in noise, pollutant and CO2 emissions, a sign of San Sebastian City Council's commitment to the fight against climate change and the achievement of the demanding environmental targets set by the European Union.
The renovation has several main technical focus points: reaching 65% of recycled waste by 2035, designing a flexible service that adapts to the constant and necessary evolution of waste generation in the city, minimising the impact and inconvenience of the service on daily life, and providing the municipal technical services with simple tools that allow them to know the status and evolution of the tasks at all times.
The service has a staff of 70 people and plans to collect more than 53,000 tonnes of residual waste, organic waste, cardboard and bulky waste annually. Selective collection currently accounts for 41.1%, and with the planned increase in differentiated collection of the organic fraction alone, it is expected to reach 57.42%. For certain remote areas, bi-compartmentalised lorries will be used, which allow the differentiated collection of two fractions simultaneously, with the consequent savings in emissions, energy and carbon footprint.
The tasks will be organised and monitored through the VISION integrated service management platform, developed exclusively by FCC Medio Ambiente, which allows control, monitoring and optimisation of the work and makes it possible to interact in real time with residents' requests and service incidents.
The company and the City Council are aware of the importance of citizen collaboration, which is why a series of campaigns and awareness-raising actions have been designed to involve citizens and highlight the importance of their commitment to recycling and the cleanliness of the city, the main slogan of which will be "Arduratu!" ("Take responsibility!").