05/09/2023
FCC Medio Ambiente awarded the contract for the new Ripollès collection contract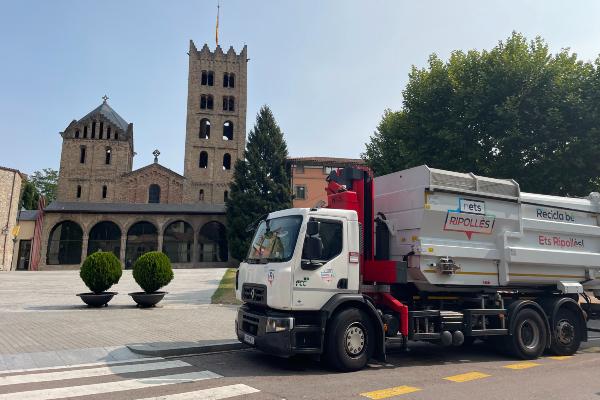 The Ripollès County Council (Gerona) has awarded FCC Medio Ambiente the new solid urban waste collection contract. The service amasses more than €12.5 million for the next six years to serve the 25,200 inhabitants of the 19 local councils that make up the County.
As a new feature of the contract, the service will be monitored by GPS systems in all vehicles and Radio Frequency Identification (RFID) tags on containers. In addition, environmental objectives have been set, namely to improve selective collection by 2% per year to reach an increase of 12%, which will mean a recycling rate of 50.88% by the end of the contract. Container enclosure systems with card or mobile opening are planned to be implemented, specifically in bilateral loading containers, with the main objective of restricting the use of containers for the residual waste fraction. The service includes the management of a waste transfer plant given the remoteness of the final recycling facilities.
To collect the 11,500 annual tonnes of the county's waste, the service boasts 15 vehicles and 21 people and will continue to use the current system of bilateral collection in more than half of the containers, in addition to the door-to-door service in Sant Joan de les Abadesses.
In the County of Ripollès there are two distinct seasons, summer and winter, which give rise to a differentiated demand in terms of collection frequencies in all systems. It is essential that the service be prepared for occasional increases in special on demand collections in the different municipalities, as well as from the two alpine ski resorts served, Vall de Núria and Vallter 2000, which are major seasonal producers.
The services will be organised and monitored through VISION, the comprehensive digital management platform developed exclusively by FCC Medio Ambiente, together with another commercial platform. VISION will implement new applications for the control and optimisation of works that make it possible to interact in real time with service incidents and requests from residents.
The contract also envisages the introduction of education and awareness campaigns for citizens in relation to selective collection and the improvement of recycling rates, a point of utmost importance and a major challenge in order to make the County a more sustainable place.