18/04/2023
FCC Medio Ambiente signs a framework collaboration agreement with the Proyecto Hombre Organization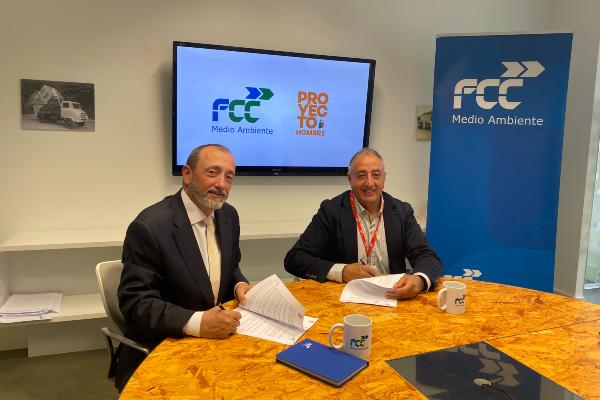 FCC Medio Ambiente and the Proyecto Hombre Organization have signed a collaboration agreement with the aim of promoting prevention, raising awareness within the company and supporting treatment for people with addiction problems who are cared for in the Proyecto Hombre centres, as well as facilitating their integration into the labour market, seeking to match them with job vacancies for recruitment by the company. The signing, which took place yesterday at FCC Medio Ambiente's corporate headquarters in Madrid, was attended by Alfonso Arana, chairman of the Organization, and Luis Suárez, the company's human resources director.
Every year in Spain, Proyecto Hombre assists more than 16,000 people with addiction problems. According to Alfonso Arana, "for the success of their process, it is essential for them to find a job so that they can integrate into society. The agreement with FCC Medio Ambiente will facilitate the job placement of the people assisted by Proyecto Hombre and will also promote awareness and prevention of addictions among the company's workers. He also maintains that for both organisations "co-responsibility and alliances are necessary to respond to challenges that, like the prevention and overcoming of addictions, our society faces on a daily basis."
According to Luis Suárez, "the human quality of a society is measured by its capacity to protect and care for its most vulnerable members, which makes it more socially sustainable; and a company's commitment to social sustainability has to be reflected in actions that precisely facilitate the integration of said most vulnerable groups, those at risk of exclusion or those who need positive reinforcement actions when faced with any discrimination. FCC Medio Ambiente is always striving towards this objective as a main entity committed to the social and occupational integration of such vulnerable groups, understanding that being a leader in its area of activity also means assuming the responsibility of becoming a reference point with each of its actions".
This collaboration demonstrates FCC Medio Ambiente's commitment to the development of more sustainable, responsible and efficient environments and communities based on equality, resilience, inclusion and solidarity of various groups: unemployed people, people at risk of social exclusion, people with disabilities, victims of gender violence, migrants, refugees, people deprived of their liberty, etc., through the design and implementation of social sustainability practices. This agreement is part of the social axis of the company's 2050 Sustainability Strategy, which aims to promote diversity and equal opportunities through the promotion of insertion employment. Thus, it seeks to give a boost to the inclusion of this particularly vulnerable group, promoting support for people with addiction-related difficulties and their rehabilitation in their professional life.
Proyecto Hombre was created in 1984 to offer solutions for the prevention and treatment of drug addiction. Every year it treats more than 16,000 people with addictions and nearly 100,000 people in prevention through its 28 centres and 210 units throughout Spain. It is one of the largest Spanish NGOs dedicated to the prevention and treatment of drug addiction and other addictive behaviours.
FCC Medio Ambiente is the FCC Group company that, for over 120 years, has been providing municipal services and comprehensive waste management, serving more than 60 million people around the world. In 2021, the company launched its 2050 Sustainability Strategy, a development plan that integrates very demanding objectives and commitments with high added value for the company and society as a whole, and which are integrated into four lines of action: environmental, social, excellence and governance.