FCC Medio Ambiente begins to provide waste collection and street cleansing services in Arganda del Rey
16/11/2022
FCC Medio Ambiente begins to provide waste collection and street cleansing services in Arganda del Rey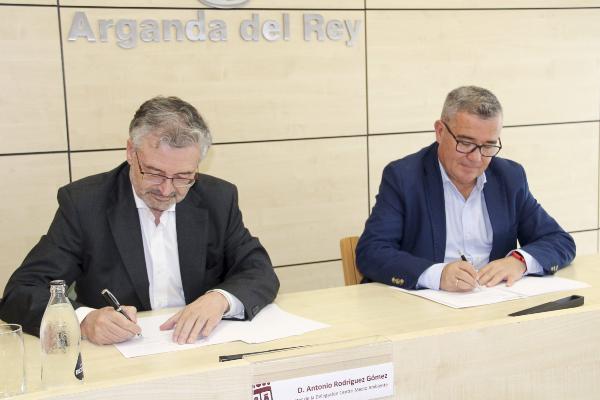 FCC Medio Ambiente has begun to provide waste collection and street cleansing services recently awarded by Arganda del Rey City Council (Madrid). The contract entails a total order book value of €62 million for the next 10 years and implies an investment of almost €7 million in the services of the municipality, where the company also carries out streetlighting and energy efficiency activities.
This new service implements one of the first side-loading electric collection lorries to be seen in Spain and the first in the Region of Madrid. In addition, the entire fleet of vehicles of the contract has the low emissions environmental guarantee, all of which demonstrates the commitment of Arganda del Rey City Council to the sustainability of its municipal services.
In order to serve the more than 56,000 inhabitants of the city, both services will have a staff of 120 people and an afternoon shift will be implemented, which previously did not exist.
To collect the more than 23,000 tonnes of residual and selective waste per year (with the exception of glass and paper-cardboard) more quickly and efficiently, the current rear-loading system will be replaced by a side-loading system for residual, packaging and organic waste, with collection vehicles that use the latest technology and reduce the environmental and acoustic impact to a minimum. In addition, a plan will be implemented to replace the current underground containers with side-loading container islands.
A new feature of the street cleansing contract, which covers the entire municipality (around 80 square kilometres), is the increased mechanisation of the sweeping of pavements and roads to improve the efficiency and depth of street cleansing in the municipality.
As part of FCC Medio Ambiente's commitment to innovation, the contract has a powerful IT tool: the VISION platform, developed exclusively by the company, which allows the control, monitoring and optimisation of tasks, from the preparation of the most suitable routes to the collection and management of incidents, as well as personnel control and vehicle maintenance work, and makes it possible to interact in real time with residents' requests. All this in direct connection with the municipal technical services, which will have live access to this information, contributing thus to the transparency and coordination of the service.
One of the main goals of this offer is to adapt services to new social needs and demands, targeted at sustainability in its three branches: environmental, economic and social. In order to achieve these objectives, FCC Medio Ambiente's proposal includes the scheduling of educational and awareness-raising campaigns that aim to position Arganda del Rey City Council as a leading public institution in the field of environmental education and to provide future generations of citizens with environmental culture and social awareness.