FCC honoured with FESBAL's "COVID-19 Stars" award for its involvement and commitment to solidarity during the health crisis
22/07/2021
FCC honoured with FESBAL's "COVID-19 Stars" award for its involvement and commitment to solidarity during the health crisis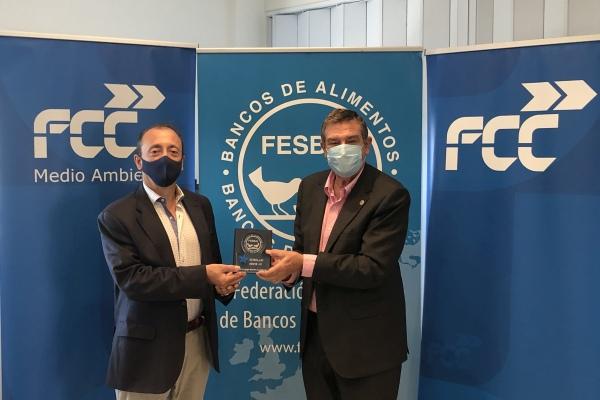 The FCC Group has been awarded the "COVID-19 Stars" distinction by the Spanish Federation of Food Banks (FESBAL) in recognition of its solidarity and support for initiatives such as "Ningún hogar sin alimentos" (No pantries left empty), a food solidarity campaign launched among its employees by "la Caixa" Foundation and CaixaBank in support of food banks that help vulnerable families whose situation has been aggravated by the outbreak of the coronavirus.
FCC's DNA has always included social commitment, and in keeping with its social and corporate responsibility genetics, the company has backed the work of this organisation and its 54 food banks, to continue supporting the people who need it most, especially the ones most severely affected by the devastating effects of the health crisis.
The award ceremony took place at FESBAL's corporate headquarters in Madrid. The award was collected on behalf of the FCC Group by Luis suárez, Human Resources Director of FCC Medio Ambiente, who expressed his gratitude to the Federation: "We are very honoured by this recognition and proud of the excellent response that people in our company have given to FESBAL's appeal, especially in the very difficult times we are living through because of the COVID-19 pandemic. I am honoured to receive this award on behalf of each and every one of FCC's employees".
In turn, the Federation's general manager, Miguel Fernández, highlighted the responsible efforts of FCC throughout the pandemic, responding to the needs of the most vulnerable people: "Although we cannot let our guard down at this time, it is also time to give thanks for the continuous support received in 2020. We would therefore like to give special thanks to the FCC Group for their great collaboration during the pandemic, presenting them with the COVID-19 "Premio Estrellas" (Stars Award) and distinguishing them for their support to the Spanish Federation of Food Banks and its 54 associated banks".
The "Premio Estrellas" awards were created as a way of thanking the media and collaborating companies for their support to the Spanish Federation of Food Banks and its 54 associated Food Banks. The first edition of these "Premio Estrellas" took place in 2019, in recognition of the support during "The Great Food Drive", the main campaign that Food Banks carry out during the year. This second edition aims to recognise the special collaboration during 2020 in the face of the health, economic and social crisis triggered by COVID-19.