FCC Medio Ambiente and Almacenes J. Castellanos sign an alliance to develop women's specific workwear
12/03/2021
FCC Medio Ambiente and Almacenes J. Castellanos sign an alliance to develop women's specific workwear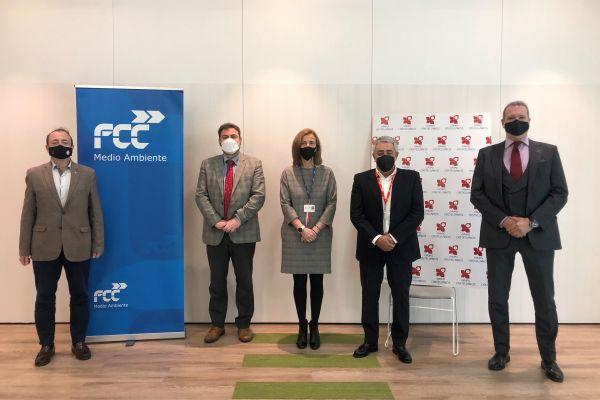 FCC Medio Ambiente, leader in urban services, has today signed the first agreement for the research, development and manufacture of clothing and personal protection equipment specifically designed for women's size and shape. For this purpose, it has selected Almacenes J. Castellanos, S.L., as its partner of reference, a Madrid-based company with a longstanding presence in the industrial textile sector and a regular supplier.
On behalf of FCC Medio Ambiente, the agreement was signed by Raquel Losada, Equality, Diversity and Inclusion Manager and Juan Carlos Inglés, Procurement Director, who were supported by Luis Suárez, Human Resources Director. On behalf of Almacenes J. Castellanos S.L., the agreement was signed by Mr. Julio Paradela Cano, Chief Executive Officer, accompanied by the Commercial Director, Santos Coronado.
The event was introduced by Raquel Losada, who highlighted that the agreement shows the company's commitment to equality. Santos Coronado, on his part, pointed out that this initiative means one more step in the direction in which society is moving - gender equality - and his group's satisfaction for participating in the project with such an important partner. Luis Suárez closed the ceremony, reaffirming that FCC Medio Ambiente cares for the well-being of its staff at the workplace and the significance of this agreement as a further step towards equality and the development of programmes that reflect the Sustainable Development Goals (SDGs).
The activities carried out by FCC Medio Ambiente - mainly street cleansing, collection, recycling and treatment of municipal waste and ground maintenance - inevitably require specific clothing to be used in their most usual tasks, not only as a type of uniformity, but mainly due to their consideration as individual protection equipment, in the sense of essential means of prevention for the development of the activity.
In despite of this, current legislation does not explicitly include among the company's obligations that of adapting these means to specifically female figures and measures, nor was there any special consideration in this regard within the textile industry dedicated to this type of manufacture and supply, even if in recent years, a significant effort has been made to include women in this type of highly masculinised activity.
With this initiative, FCC Medio Ambiente wishes to demonstrate its concern for the well-being of its female employees at the workplace, to achieve higher levels of compliance with the general legal requirement for the supply of protective equipment and to show its commitment to effective equality in all areas of work.
This initiative is also part of the long-term sustainability strategy designed by FCC Medio Ambiente, representing a first step in the establishment of strategic alliances with other sectors such as the sustainable textile industry for the development of specific programmes that effectively embody the United Nations' Sustainable Development Goals and contribute to bringing closer the commitment to circularity in the use of environmental resources, social equity and global governance.
Image (from left to right.): Luis Suárez, Human Resources Director FCCMA; Juan Carlos Inglés, Purchasing Director FCCMA; Raquel Losada, Equality, Diversity and Inclusion Manager FCCMA; Julio Paradela, General Manager Almacenes J. Castellanos y Santos Coronado, Commercial Director Almacenes J. Castellanos.