FCC Medio Ambiente will take charge of waste collection and street cleansing in Pozuelo de Alarcón (Madrid)
02/12/2021
FCC Medio Ambiente will take charge of waste collection and street cleansing in Pozuelo de Alarcón (Madrid)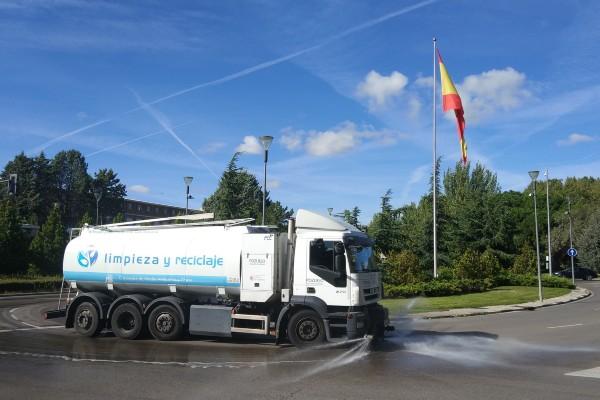 Pozuelo de Alarcón City Council renewed its trust in FCC Medio Ambiente and awarded the company the contract for the city's waste collection and street cleansing services, as it has been doing since 1983. The new contract began on 1 December and involves a €150 million order book value for a 10-year period, with two possible one-year extensions.
To serve the 83,800 inhabitants of the municipality, the service has a workforce of around 240 people. The fleet is almost entirely "ECO" or zero-emission environmental label, in line with the City Council's commitment to sustainability, respect for the environment and fighting against climate change. The contract is managed through a digital platform and implements a series of innovations such as the use of post-consumer recycled material in the composition of the bodies of the household-type containers, the use of NB-IOT technology in the transmission of data from sensors and field devices, and double measuring systems (acoustic and optical) in the container filling sensors.
A fleet of 43 vehicles has started operating for the collection of more than 40,000 tonnes of different waste fractions per year. Selective collection of organic waste will be progressively implemented throughout the municipality, for which 15,000 additional containers will be installed and maintained. In neighbourhoods with single-family dwellings, the collection of vegetable waste will be integrated into the services, and its frequency will be increased from one to three times a week, which will prevent waste accumulations and improve the cleanliness and safety of the road network.
The street cleansing service covers a total of 331 km of streets and deploys a fleet of 53 vehicles and machines. New developments include an increase in the mechanical sweeping of pavements and roads to improve the efficiency and thoroughness of cleaning, an increase to three times a week in the frequency of street sweeping in the municipality and the cleaning of stream beds, dirt tracks and other underserved areas.
FCC Medio Ambiente's commitment to the city's sustainable development goes beyond the environmental sphere, so the company actively collaborates with the Gil Gayarre Foundation, whose mission is to attend to and support the life projects of people with intellectual disabilities and their families. Educational and awareness-raising training sessions will be held for this group in order to defend their rights and obligations as citizens and achieve the highest possible degree of social inclusion.