FCC Medio Ambiente renews the contracts for the waste collection and street cleaning service, and the vehicle-towing service in Oviedo
10/07/2020
FCC Medio Ambiente renews the contracts for the waste collection and street cleaning service, and the vehicle-towing service in Oviedo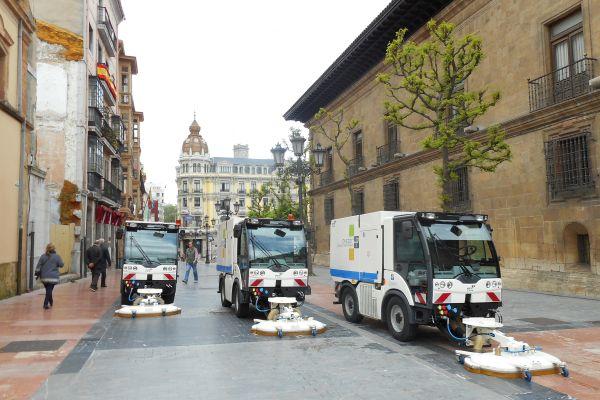 The Oviedo City Council has once again placed its trust in FCC Medio Ambiente and has extended the contract for municipal solid waste collection and street cleaning services for a five-year period. At the same time, it has decided to carry out the legal extension of the vehicle-towing service contract for the same period, therefore the extension of both contracts represents a portfolio worth over 102 million euro. The waste collection and street cleaning contract began in 2006 and this is the second extension agreed with the company. Both extensions will come into force from February 2021. FCC Medio Ambiente's relationship with the city of Oviedo go back to 1967, the year since which the firm has been providing uninterrupted service.
To service the 220,000 inhabitants and collect around 12,137 tonnes per year of recyclables (packaging, paper and cardboard, FORM and glass) and 61,129 tonnes of residual waste, there is a fleet of 43 vehicles including 31 Compressed Natural Gas (CNG) waste collection vehicles of diverse capacities, being some of them with double body for simultaneous selective collection; eight other different compactors, three open and closed box lorries for glass collection, two back tipping vehicles with crane and tail-lift and a container-washing vehicle.
Regarding the street cleaning service, which covers 384 km of street, the fleet includes vehicles and specialised machinery such as 42 Porter-type auxiliary vehicles for manual street washing, nine mechanical sweepers, ten high-pressure wash-down self-propelled machines, five scrubbing-stripping machines, two tanker lorries for street washing, fifteen Porter-type open-box auxiliary vehicles, three of which are electric; one open-body tipping vehicle with crane and a tail-lift, a multi-task cleaning brigade lorry, ten façade-cleaning vehicles and a van for on-site litter bin maintenance. There are also seven inspection pick-up vehicles and a mobile workshop van.
Among the economic and financial advantages that this extension brings to the citizens of Oviedo, it shall be noted that FCC Medio Ambiente undertakes the pending depreciation of several vehicles and assumes the renewal of some equipment, in many cases with electrical and low-emission equipment, which will save the City Council more than two million euro and reduce the service carbon footprint.
To carry out the different tasks, FCC Medio Ambiente will have a staff of 367 employees and, as part of its social commitment to inclusion and gender equality, will incorporate a minimum of three women per year into the job pool.