FCC Medio Ambiente renews the contract for waste collection and street cleansing services in Segovia
11/09/2020
FCC Medio Ambiente renews the contract for waste collection and street cleansing services in Segovia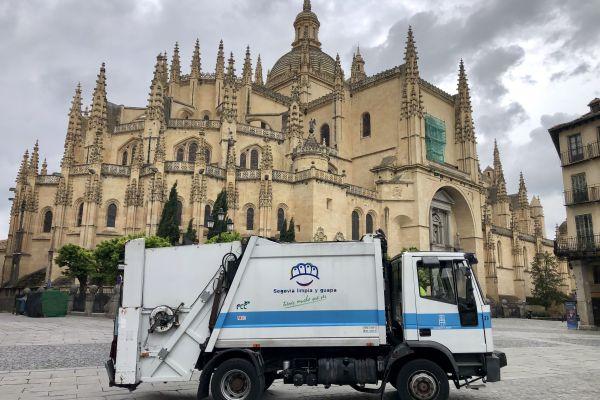 Segovia City Council has once again placed its trust in FCC Medio Ambiente (the Spanish brand of FCC Environment) and has awarded the firm the contract for municipal solid waste collection and street cleansing services for a ten-year period. The new contract represents an order book value over 56 million euro. Furthermore, the renewal of the contract includes the closure of El Peñigoso landfill.
FCC Medio Ambiente's relationship with the city of Segovia goes back to 1996 and since that date the Company has been continuosly delivering service.
In this new contract, Segovia City Council is firmly committed to innovation and implementation of clean and alternative technologies that allow the City to remain at the forefront of sustainability. This way, non-polluting natural gas vehicles and e-Mobility technologies are incorporated in order to improve the quality of the service and reduce the environmental impact.
To service the 51,964 inhabitants and collect around 10,379 tons of recyclables per year (packaging, paper and cardboard, organic material, glass and batteries) and 18,646 tons of residual waste, there will be a fleet of 17 brand new vehicles including 15 Compressed Natural Gas (CNG) lorries, out of which six units are side-loading collectors, two rear-loading collectors, one Rollon/off lorry, one rear-loading and one side-loading container-washing vehicles, one open-box lorry with crane, , one ROCAR-type collector, one mobile recycling centre equipment, and one open-box lorry with a tail lift for bulky items. Additionally two small vehicles for waste patrol service will be implemented.
As part of the contract, a gas station with be built for the refuelling of CNG vehicles.
Regarding the street cleansing service, which covers over 300 km of roads, there will be 40 brand new vehicles and specialized machinery, of which 22 will be electric, such as 11 Porter-type ancillary vehicles for sweeping, four Porter-type ancillary vehicles for washing, two pedestrian sweepers, three supervisor vans and two staff cars. They will also be equipped with three street washing tanker lorries with CNG motors.
As a new feature in the cleaning service, eight electrically-assisted trolleys will be implemented in order to improve the efficiency of manual sweeping on steep streets.
To carry out the different tasks, FCC Medio Ambiente will have a staff of 124 employees.
With the inertia of a consolidated service, that evolves year after year and fits the needs of Segovian citizens, all waste containers in the city will be renewed (around 1,500) and litter bins fitted to selective collection will be installed. In crowded areas these bins will have a large volume in order to avoid overflows.
It shall be highlighted, as an innovation, the implementation of a pilot program of selective collection of organic waste in the neighbourhood of "La Albuera", with expectations of extending it to the whole city in the future. In order to minimize the visual impact of the containers in the monumental areas, a "put-on/ put off" system will be implemented.
Regarding the social scope of the services, containers for collecting used clothes, shoes and oil will be installed around the city. The collection will be done together with the APADEFIM, Asociación Provincial de Padres y Protectores de Deficientes Físicos, Intelectuales y Mentales de Segovia (Provincial Association of Parents and Protectors of the Physically, Intellectually and Mentally Handicapped of Segovia). In addition, a "Healthy Organization" Project will be prepared based on actions such as basic health care and healthy lifestyle.
All the services will be organized and monitored through VISION, a fully integrated digital management platform developed exclusively by FCC Medio Ambiente, which allows to meet the objectives described and respond to the current requirements of the client.
Lastly, throughout the next ten years, numerous public awareness campaigns will be carried out in order to make Segovians aware of environmental pollution.