FCC Medio Ambiente renews the contract for waste collection and street and beach cleansing in Torrox (Málaga)
25/05/2021
FCC Medio Ambiente renews the contract for waste collection and street and beach cleansing in Torrox (Málaga)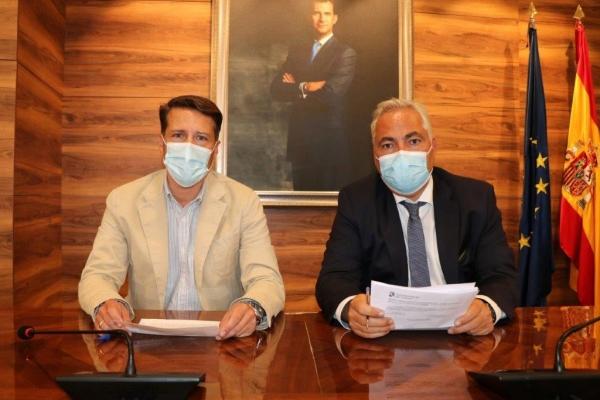 Torrox Town Council (Málaga) has once again placed its trust in FCC Medio Ambiente and has awarded the contract for municipal solid waste collection and street and beach cleansing services to the Caviclum joint venture led by the company together with FCC Equal. The contract, which began in May, represents an order book value over €34.6 million for a ten-year period. FCC Medio Ambiente´s relationship with Torrox goes back to 2003 and since that year the Company has been continuously delivering service.
The contract was signed on 21st May at a meeting attended by the mayor of Torrox, Óscar Medina, and the director of FCC Medio Ambiente's Andalucía II branch, Francisco José Cifuentes.
Torrox Town Council is committed to sustainability in this contract, which will incorporate 19 electric vehicles, including auxiliary vehicles, supervision vans and sweeping tricycles. This is a further step in the implementation of e-mobility in services, with an enormous positive environmental impact in terms of pollutant and noise emissions, carbon footprint reduction and energy efficiency. In addition, all machinery related to the contract will be newly acquired.
It should be highlighted that this contract includes the construction of an operational base for the services, as well as a household waste recycling centre for the whole municipality. FCC Medio Ambiente will have a staff of 59 people to provide all the services, including waste collection and street and beach cleansing.
In order to collect over 9,300 annual tonnes of waste, FCC Medio Ambiente will have a fleet of 12 vehicles, including collectors, open-box, container-washing, pressure-washing and auxiliary vehicles. It is worth noting the implementation of a side loading system throughout the municipality, except in the historic centre, and the selective collection of organic fraction throughout the whole town. In addition, the complete fleet of containers and litter bins will be renewed and all underground container blocks will be brought into proper functioning.
Regarding the street cleansing service, 132 km of streets will be cleansed to serve the 17,200 inhabitants of Torrox counting on an expected fleet of 27 vehicles, including auxiliary and open-box vehicles, street washers, mechanical sweepers, high-pressure washers and electric sweeping tricycles.
In order to ensure that Torrox's 6.6 km of beach are in a suitable condition to welcome visitors, FCC Medio Ambiente will have three tractors and four specialised machines, including a stone picker that removes the rocks accumulated on the sand.
In the social scope, and in line with Torrox Town Council's commitment to equality, a greater number of women will be hired during the peak season. In addition, as part of its social commitment to inclusion, FCC Medio Ambiente will hire people with a disability of over 33% into its staff to reinforce the provision of services during the summer period. In other topics, an initial campaign will be carried out to introduce the services and ensure that citizens are fully aware of them and their features. Afterwards, annual public awareness campaigns will be performed.
The services will be managed through the VISION digital platform, developed exclusively by FCC Medio Ambiente. It incorporates the latest innovations that allow any incident that may occur to be captured immediately. One of the platform's most useful tools is the VISION2 mobile app, adapted for recording and communicating incidents in real time, as well as serving as a tool for inspecting the service itself. The VISION Platform has a wide range of possibilities for generating incidents, suggestions and/or complaints, and is designed to offer such possibilities to all agents and users involved in the service.