FCC Medio Ambiente renews the contract for waste collection, street cleansing and sewerage maintenance in Cornellà de Llobregat
07/04/2021
FCC Medio Ambiente renews the contract for waste collection, street cleansing and sewerage maintenance in Cornellà de Llobregat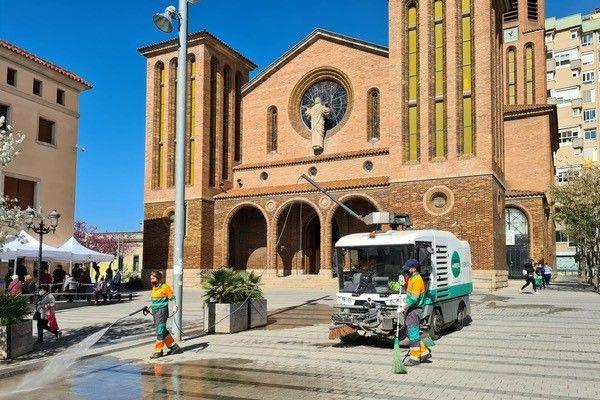 FCC Medio Ambiente has signed the renewal of the contract for waste collection, street cleansing and sewerage maintenance in Cornellà de Llobregat for a period of 10 years. The total order book value amounts to 100 million euros and service provision will begin in July. FCC Medio Ambiente´s relationship with Cornellà goes back to 1986 and since that year the Company has been continuously delivering service.
In order to serve the nearly 90,000 inhabitants of the city and collect around 6,151 tonnes of recyclables (packaging, paper and cardboard, organic matter and glass) and 21,607 tonnes of waste per year, the service will have a staff of 29 people and a renewed fleet of 21 vehicles including collection and container-washing vehicles.
It should be noted that this is the first time that the company has implemented an innovative and pioneering system of personalised opening with user identification by card for all service containers. In addition, the contract includes the complete renewal of the container network, which includes 1,228 side-loading units and 184 120/240 litter, two-wheeled units.
With the inertia of a consolidated service, that evolves year after year, the central machinery depot will be fully refurbished with energy-saving measures such as the installation of photovoltaic panels for charging electric vehicles and rainwater collection for washing vehicles. In addition, the rainwater draining facilities will be renewed.
It shall be highlighted that there will be a campaign to raise awareness among citizens about the implementation of the new collection system which, as a new feature, will include a door-to-door bulky item collection service.
Regarding the street cleansing service, which covers over 134 km of streets, the company will have a staff of 113 people, 39 units of specialized machinery and a fleet of 38 vehicles, out of which twelve will be electric, including six auxiliary sweeping vehicles, three supervisor vans and three light auxiliary vehicles. The service will also have three hybrid vehicles, including two street-washing lorries and a supervision vehicle. In addition, a total renewal of all street cleaning vehicles is planned with the aim of making them compliant with the European Union's Euro 6d standard as a minimum, in order to reduce NOx emissions. This greener fleet is aligned with Cornellà City Council's commitment to sustainable mobility.
As a new feature, it is worth noting that two more workers will be hired for manual cleaning in the most densely populated neighbourhoods of the municipality.
As for the sewerage service, the maintenance and supervision covers 113.6 km of non-visitable network and 24.6 km of collectors network. The service, which also covers the maintenance of 4,622 access wells, will be staffed by 3 people and will have a vacuum-impulsion mixed lorry and an inspection and emergency van. As a technological innovation, it is important to mention that the service will have a filming robot for pipes, a drilling robot and a device for pipeline detection from the surface.
Regarding the social scope, there is a commitment from FCC Medio Ambiente and the works council to include positive actions of gender equality in the selection processes to promote, in new hires, a ratio of two women for every man.