FCC Medio Ambiente renews the contract for waste collection with the municipalities association for the region of Pamplona
29/03/2021
FCC Medio Ambiente renews the contract for waste collection with the municipalities association for the region of Pamplona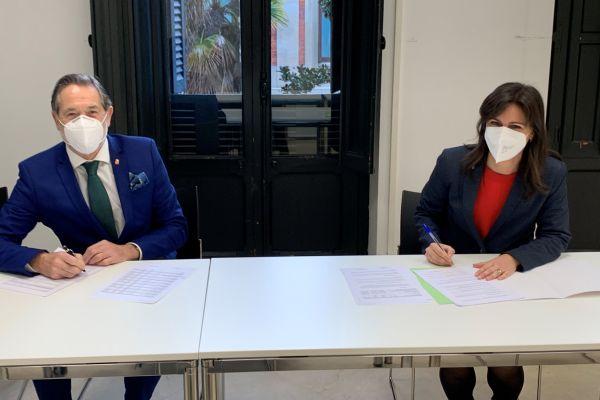 The entity Servicios de la Comarca de Pamplona, S.A. (SCPSA, Services for the Region of Pamplona) has once again placed its trust in FCC Medio Ambiente and has awarded de firm the contract for municipal solid waste collection for a period of 4 years and a total order book value of €48.6 million. Also, a possibility of a 6-year extension has been considered.
FCC Medio Ambiente's relationship with the municipalities association in Pamplona, which includes 50 municipalities, goes back to September 1985 and since that date the Company has been continuously delivering service.
The signing took place in a restricted ceremony for security and protocol reasons due to COVID-19 and it was attended by Paula Salanueva, Financial Director of Servicios de la Comarca de Pamplona S.A. (SCPSA), and Carmelo Aguas, Director of the Navarra-Guipúzcoa branch of FCC Medio Ambiente.
In order to service around 370,000 inhabitants of the region and collect around 83,400 tonnes of residual waste and 38,160 tonnes of recyclables (organic matter, paper, packaging and treated wood), there will be a fleet of 109 vehicles. 12 brand new units will be incorporated immediately and from 2022 onwards the entire fleet will begin to be renewed with environmentally friendly Compressed Natural Gas (CNG) vehicles, in line with SCPSA's concern to achieve a cleaner and more sustainable environment at the Region.
It is worth noting that the five mobile household waste recycling centres in the contract provide service to 38 neighbourhoods in the surrounding area. The paper-cardboard rate of recovery is among the highest in Spain, at around 50kg per inhabitant per year. Within the existing Environmental Compound owned by SCPSA, specific facilities for lodging collection service will be developed.
As a new feature, from autumn onwards, electronic locks will be placed on all organic and residual waste containers (for all side-loading collection and pneumatic collection areas). This is a major step taken by the association to achieve the recovery and recycling goals set by European regulations.
Also, as 25 trucks are equipped with radio-frequency identification (RFID) and weighing systems, this will allow the VISION digital platform to be fully implemented. VISION is a comprehensive digital management platform developed exclusively by FCC Medio Ambiente, which allows to meet the objectives described and respond to the current requirements of the client. The container-washing lorries will be also equipped with containers RFID reading system and the rest of the fleet will be also fitted with GPS system, so the whole service will be organised and monitored through VISION.
To carry out the different services, the company will have a staff of 183 people, including blue and white collar workers, supervision and workshop personnel; and, as part of its social commitment to inclusion, there is an agreement with the ASPACE Confederation (Confederation of Associations for the Care of Persons with Cerebral Paralysis) by which this group provides logistical services to the collection contract.