FCC Medio Ambiente, pioneer in obtaining certification as a Healthy Organization in all its locations in Spain
03/09/2020
FCC Medio Ambiente, pioneer in obtaining certification as a Healthy Organisation in all its locations in Spain
•
FCC Medio Ambiente, the first company in its sector to have its Healthy Company Management System (SIGES) certified in 2013, is also now a pioneer in migrating to AENOR's new SIGOS (Healthy Organisation Management System) model for the whole of Spain.
•
The main objective as a Healthy Organisation is to foster the health and well-being of people through specific policies aimed at promoting healthy work environments and increasing individual capacity to maintain and improve physical and emotional health and quality of life.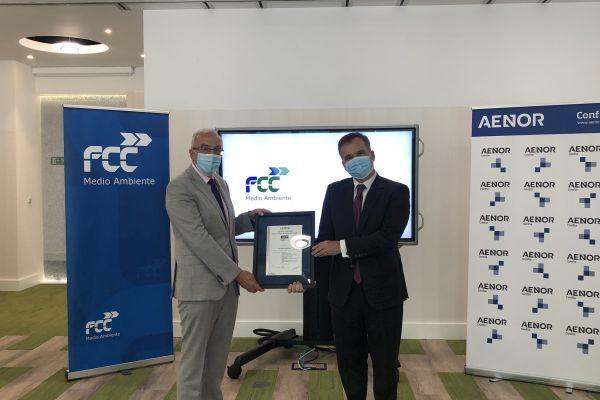 FCC Medio Ambiente, the first company in its sector to certify its Healthy Company Management System in 2013, is also now a pioneer in migrating to AENOR's new SIGOS (Healthy Organisation Management System) model. The wide scope of the certification covers nearly all of FCC Environment's activity in Spain. The company's specific Health and Welfare SharePoint portal has been used as an implementation support tool.
This distinction highlights all those initiatives that the entity is carrying out in relation to occupational safety, health promotion, sustainability and social responsibility with the community where it operates, showing its commitment to continuous improvement. The SIGOS model is a very simple tool for its application and integration, and of great effectiveness in the management of safe, healthy, sustainable and committed companies, regardless of their size, industry and geographical location.
The award ceremony was held at FCC's corporate headquarters in Las Tablas (Madrid) and was chaired by Jordi Payet, CEO of FCC Medio Ambiente and Rafael García Meiro, CEO of AENOR.
Jordi Payet emphasized that, for the company, the safety, health and well-being of the workers and their families are fundamental values, and directly influence the productivity and competitiveness of the organisation and, consequently, its sustainability. Therefore, it is essential to effectively integrate these priorities into management at all levels and in all areas of the organisation, and the support and certification role played by AENOR, in this case through the SIGOS system, is irreplaceable. FCC's CEO wanted to thank all the people at FCC Medio Ambiente for the good reception and their personal involvement in the success of the project, which is especially important in the current circumstances of the COVID-19 pandemic threat.
On his side, Rafael García Meiro stated that "the way in which an organisation interacts with its workers has a decisive influence on the trust it is able to arouse among its stakeholders. FCC Medio Ambiente is developing a serious work with results to deploy an ambitious approach on the health of the people who are part of it; moreover, it does it through a successful multi-departmental collaboration. All of this work has been voluntarily submitted to the independent audit of AENOR, and it has notably deserved been awarded the certificate of Healthy Organisation Management System".
Another advantage of SIGOS accreditation is that it improves the corporate image by projecting a safe, healthy and responsible organisation, in which workers, customers, suppliers and other stakeholders can participate, being more healthy, motivated and satisfied, until the firm becomes a reference in the industry and within society, a focus of attraction and retention of talent and to which the employees can feel pride of belonging.