28/06/2021
FCC Medio Ambiente to take part in the "RANKING GAMES" sporting event for companies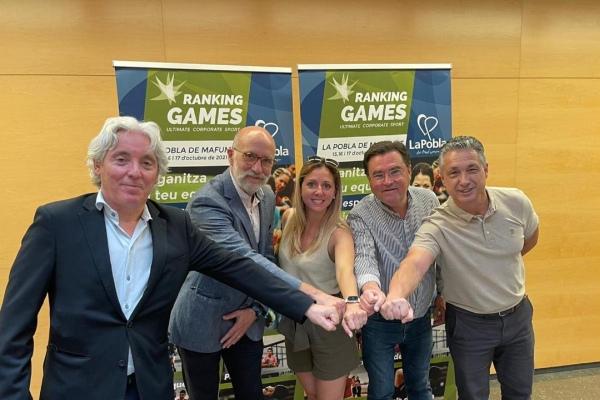 FCC Medio Ambiente has sealed its participation in the "Ranking Games" 2021 sports event for companies, to be held from 15th to 17th October in Pobla de Mafumet, Tarragona.
Martín Juanola, head of the Catalonia I branch and Jesús Padullés, head of the Catalonia II branch, were in La Pobla de Mafumet to consolidate the company's participation in the games. Both representatives met with the Mayor of La Pobla de Mafumet, Joan Maria Sardà, the Councillor of Sports, Estefanía Serrano, and the director of Ranking Games, Mario Rigau.
It should be highlighted that FCC Medio Ambiente was the first company in the sector to certify its HEALTHY COMPANY management system for all its offices in 2013 and to migrate to Aenor's new SIGOS (Healthy Organisation Management System) integrated model in 2020.
FCC Medio Ambiente is firmly committed to the safety, health and well-being of its employees as a pillar of its business strategy and from its responsibility as a social agent. For the company, these are fundamental values, and directly influence the organisation's productivity and competitiveness. This action is part of the social actions of FCC Medio Ambiente's Sustainability Strategy 2050, which will drive the company's development for next 30 years.
In the picture, from left to right, Jesus Padulles, head of FCC Medio Ambiente's Catalonia II branch; Martín Juanola, head of Catalonia I branch; Estefanía Serrano, Sports Councillor of La Pobla de Mafumet; Juan Maria Sardá, Mayor of the town and Mario Rigau, director of Ranking Games.
About RANKING GAMES
Ranking Games is a sporting event for companies, corporations and institutions with a winning and competitive vocation, which promotes sport as an axis of internal structuring and a showcase for the brand itself. The objective is the sporting epic and the promotion of the brand through competitive teams that are professionally and personally committed to the company, corporation or institution they represent at the event.