30/10/2019
FCC Environment participates in the XVII Conference on Mobility and Environment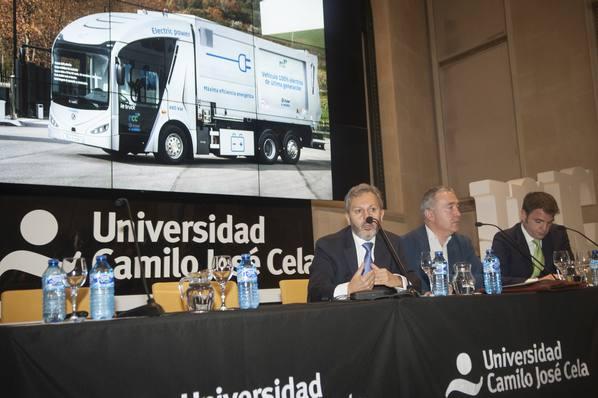 FCC Environment has participated in the XVII Conference organised by Madridiario on Mobility and Environment, "A challenge for cities", which took place in the conference hall of the Camilo José Cela University on 28 and 29 October in Madrid.
The conference, inaugurated by the Minister for the Environment, Urban Planning and Sustainability of the Community of Madrid, Paloma Martín, brought together a large number of representatives from both the Municipality and the Community, as well as representatives from different companies in the sector.
On behalf of FCC Environment, Raúl Pérez Vega, director of the Madrid Delegation, attended a round table discussion on new forms of collection.
Raúl Pérez stated that the city is moving in the right direction, but there is still work to be done and that the collection process will play an important role in helping to reduce the impact on the environment. He also explained the company's e-mobility project for urban service vehicles and the importance of innovation in achieving more sustainable cities. He also stressed the need for administrations to make contracts more flexible and to allow agreements to be signed for a minimum of ten years so that investments can be amortised.

Lastly, all the speakers agreed that Madrid has one of the most advanced containerisation systems in the world; "The envy of the whole world" in the words of Raúl Pérez; who has recall that new technologies must be promoted to improve selective collection rates, better containers and more efficient equipment.
FCC seeks to improve on an on-going basis, meeting the challenge to reduce the environmental impact and improve the quality of life of citizens. The development and implementation of new technologies is increasingly demanding and substantial efforts are needed to move forward. A path in which FCC Environment believes , in which it has been working for more than a century and in which it will continue to invest and seek innovative solutions for the benefit of the environment and society.