FCC Environment participates actively in the Conference on Circular Economy and Sustainable Mobility within the framework of COP25
03/12/2019
FCC Environment participates actively in the Conference on Circular Economy and Sustainable Mobility within the framework of COP25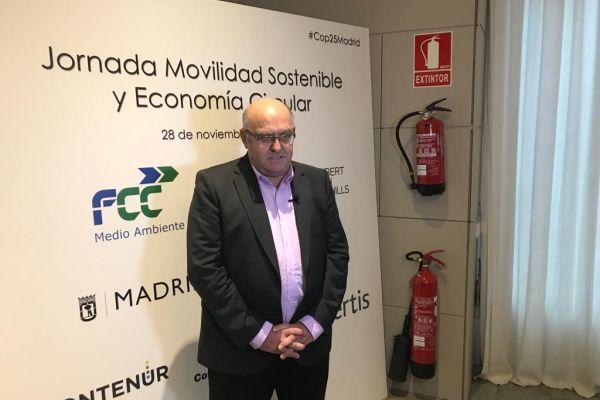 FCC Environment recently participated in the Conference on Circular Economy and Sustainable Mobility organised by the City Council of Madrid in collaboration with the Executive Forum within the framework of events organised for COP 25.
The conference, divided into two sessions, took place in the Herbert Smith Freehills Spain LLP offices in Madrid, where experts from the City Council of Madrid, the Madrid Regional Ministry for the Environment and the National Ministry of Public Works, as well as companies at the forefront of technology met. The aim was to present different projects, initiatives and good practices to improve the quality of the environment and the mobility of citizens and to promote the transformation of society towards the circular economy model.
Antonio Bravo, director of the Machinery Department, and Gabriel Gómez-Carvajal, head of Innovation and Circular Economy in the Waste Treatment Department, participated on behalf of FCC Environment.
Antonio Bravo presented FCC Environment achievements and policies regarding new forms of energy and clean mobility for urban service vehicles, both gas powered lorries and, especially, e-mobility technologies, presenting the company's latest development, the first electric chassis-platform for heavy-duty lorries, designed and manufactured for urban services. Antonio has emphasized that measures to improve the urban environment in terms of mobility can be expensive and not very popular, but necessary, especially if one considers the environmental cost of not putting them into practice.
In addition, Gabriel Gómez-Carvajal explained different aspects of the recycling policy and projects registered in FCC Environment ISO 166.002 certified innovation system, as a means of promoting circular energy, both in optimising the recovery of plastics in waste and in making use of the biogas contained within residues.
FCC Environment is committed to action against climate change and the achievement of the Sustainable Development Goals (SDGs) of the United Nations 2030 Agenda, and uses innovation in different fields as the lever to achieve those objectives. The company has been innovating for more than a century for the benefit of the environment and citizens.