FCC Medio Ambiente launches its Sustainability Strategy 2050 within the framework of the United Nations Global Compact Spain
24/09/2021
FCC Medio Ambiente launches its Sustainability Strategy 2050 within the framework of the United Nations Global Compact Spain
As a company belonging to the FCC Group, it joins the celebration of the 6th anniversary of the adoption of the 2030 Agenda within the framework of the Global Compact and the #ApoyamoslosODS campaign.

The Sustainability Strategy 2050 (#ES2050) is an ambitious 30-year project and represents a long-term strategic vision for a more prosperous, modern, competitive and climate-neutral world.

Achieving gender balance, carbon neutrality, 100% of the vehicle fleet with "ECO" and "Zero Emission" label or increasing investment in R&D&I to 1% of annual revenues, some of the objectives of the new strategy for 2050

Access the video-summary of the #ES2050 here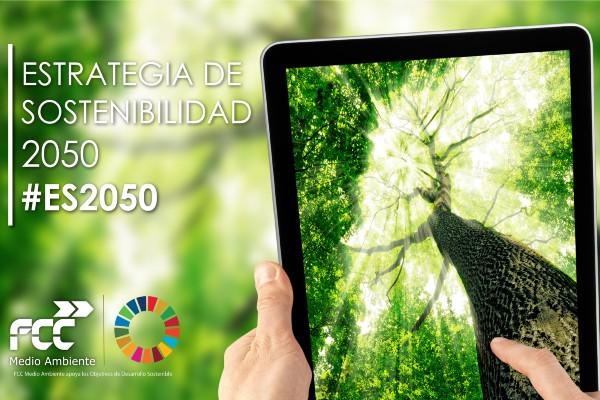 Whiting the occasion of the celebration of the 6th anniversary of the adoption of the 2030 Agenda and the 17 Sustainable Development Goals, and within the framework of the United Nations Global Compact and the SDG Week from 20 to 26 September, FCC Medio Ambiente launches its Sustainability Strategy 2050 #ES2050.
The new strategy represents FCC Medio Ambientes' commitment to protect and respect the Earth and to contribute to the fulfilment of the SDGs of the United Nations 2030 Agenda and, specifically, it contemplates actions to achieve those SDG most directly related to its activities, but maximising the effect on the 17 SDGs as a whole. It represents a long-term strategic vision for a more prosperous, modern, competitive and climate-neutral world.
Aligned with the 2030 Agenda: Four axes of action
The strategy is a roadmap that integrates very demanding and high-added-value objectives and commitments for the company and society as a whole, which are combined into four axes of action: environmental, social, excellence and governance:
Environmental axis: Circular economy and climate protection
The actions aimed at protecting the environment and fighting climate change (SDG 9, SDG 11, SDG 12 and SDG 13) are intended to promote the efficient consumption of resources and waste prevention, the protection of biodiversity, the technological innovation and the development of low-carbon processes and services.
In this scope, FCC Medio Ambiente is committed, among other things, to reducing greenhouse gas emissions by 35% by 2030 compared to 2017 and achieving carbon neutrality by 2050. In addition, in collaboration with its customers, it will work to reach the Circular Economy EU targets for 2035, reaching over 65% of waste recovered and less than 10% of waste disposed of in landfills.
The strategy includes actions to reduce environmental pollution, aiming for a 100% "ECO" or "Zero Emission" vehicle fleet by 2050 (CNG, hybrid or electric vehicles).
Social objectives
In this section, and in line with SDG3, SDG5, SDG8 and SDG10, the company makes a series of commitments to employees, linked to equal opportunities, diversity and inclusion, generation and retention of talent, and occupational health and safety.
In this regard, it is committed to achieving gender balance by 2050 and will launch initiatives aimed at empowering and promoting female talent, such as the Women's Mentoring Programme. It will also promote young talent by increasing the percentage of new hires that correspond to young graduates and will stimulate the internal promotion of those "talented" professional profiles.
From the point of view of occupational safety, the plan envisages a 50% reduction in accident rates in 2050 compared to 2019 and reaching Zero serious or fatal accidents (own or third party's) in the same year, as well as the development of programmes to improve the health of workers, both inside and outside the workplace.
Excellence and good governance objectives
FCC's objective in this area and aligned with SDG9, SDG11 and SDG12, is to be a benchmark in terms of implementing systematic and homogeneous work guidelines within the organisation, which enable it to make its processes efficient, evidenced through certification/accreditation with respect to standards, specifications, protocols and regulations of reference at an international level. Another key objective for the organisation is to maintain the company as a leader in innovation within the sector. In this regard, the company plans to increase annual R&D&I investment to a minimum of 1% of turnover by 2050.
All of this within the objective of contributing to the promotion of inclusive, sustainable and efficient cities through services that respond 100% to the Smart Human Environmental model, which, through technology, become citizen-friendly urban environments. This includes fostering more resilient cities, by supporting contingency plans to overcome unexpected events.
This section also includes measures focused on the fight against corruption and for peace and social stability, quality and transparency in the value chain.
About FCC Medio Ambiente
For 110 years the Environmental Services area of the FCC Group has provided municipal services and comprehensive waste management, serving in excess of 66 million people in more than 5,000 municipalities.
In 2020 the company operated in a total of 12 countries, providing a range of services which demonstrates its varied experience in the sector: collection, treatment, recycling, energy recovery and disposal of urban solid waste, street cleansing, maintenance of sewage systems, ground maintenance, treatment and disposal of industrial waste, and the recovery of contaminated soil.
The FCC Group has more than 120 years of experience in the provision of Services to Cities. It is a world leader in environmental services, end-to-end water management and infrastructure development and construction.