FCC Environment officially inaugurates the Millerhill Energy Recycling and Recovery Centre in the United Kingdom
24/09/2019
FCC Environment officially inaugurates the Millerhill Energy Recycling and Recovery Centre in the United Kingdom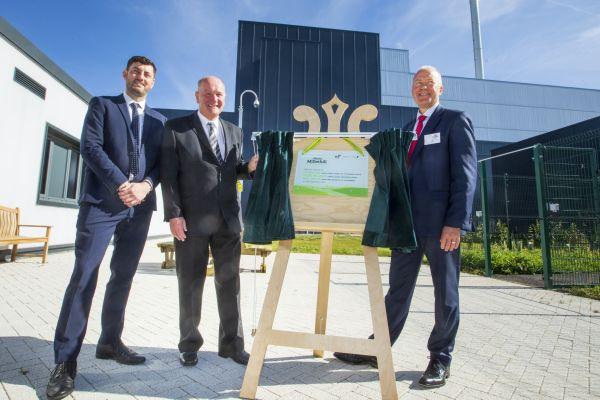 The Millerhill, Midlothian Energy Recycling and Recovery Centre (RERC), near Edinburgh, in the United Kingdom, was officially opened on last Friday 20th of September. The Millerhill RERC has involved an investment of £142m and has been developed by FCC Environment together with the councils of Edinburgh and Midlothian, through a contract to design, finance, build and manage the plant for a period of 25 years.
The facility is set to help both councils meet the goals of the Scottish Zero Waste government in 2025, by diverting 155,000 tonnes of waste – 135,000 tonnes of household residual waste with a further 20,000 tonnes of household and commercial waste – from landfill each year. The treated waste will generate clean electricity to power 32,000 households and businesses across the region.
The Construction began in October 2016 with the Engineering, Procurement and Construction (EPC) role delivered through a joint venture between FCC Environment, FCC Medio Ambiente SA and Hitachi Zosen Inova (HZI). The plant has been receiving residual waste for commissioning purposes since October 2018, entering into operation in April 2019.
The official opening event for the site brought the Partner Councils, FCC Environment and other key stakeholders together to celebrate the occasion.
FCC Environment's Chief Executive, Paul Taylor said: "We are thrilled to join our Partner Councils to mark the official opening of the Millerhill RERC today. The facility will not only divert the large amount of waste ending up in landfill but will also generate crucial energy for local communities. This important step will benefit both councils as well as the businesses and families in the area, not to mention the environmental-friendly benefits it will deliver to Midlothian's landscape."
To find out more about Millerhill RERC, please visit https://millerhill.fccenvironment.co.uk/
About FCC Environment
The FCC Group is a global leader in services for cities. The Environmental Services area of the company has been delivering municipal services for more than 100 years and has based its success on a commitment to innovation and helping cities to become smarter, more sustainable and more socially responsible. It currently serves almost 60 million people in nearly 5,000 municipalities in thirteen countries, with a network of more than 200 energy-recovery and recycling plants that process annually 24.5 million tons of waste as a resource, including eleven energy-from-waste (EfW) projects with a capacity of more than 3.2 million tons and 360 MW of non-fossil electricity.
Photo caption: Councillor Cammy Day, Deputy Leader of the City of Edinburgh Council, Midlothian Council's leader, Cllr Derek Milligan and Paul Taylor, FCC Environment's Chief Executive.