FCC Medio Ambiente successfully implements e-mobility technologies in building and facilities management services for the Catalan Health Institute
27/11/2020
FCC Medio Ambiente successfully implements e-mobility technologies in building and facilities management services for the Catalan Health Institute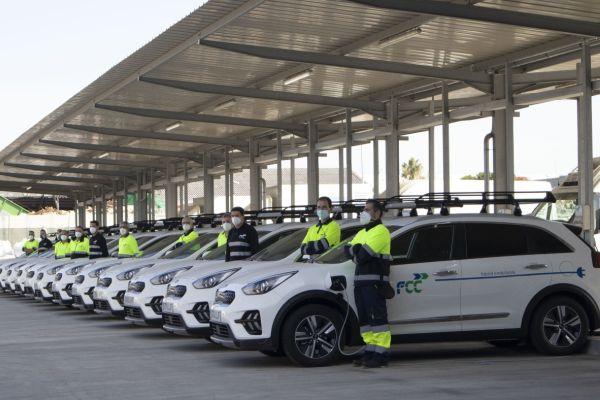 The Catalan Institute of Health has awarded FCC Medio Ambiente the contract for the facility management service for a period of two years plus two extensions. The company's relationship with this entity dates back to 2007, the year from which it has provided uninterrupted service. In order to properly provide service in the awarded areas, which are Lleida, Tarragona, Girona, Barcelona city and the southern metropolitan area, the company will have 22 maintenance technicians, four service managers and the support of the different departments of the division.
In this new contract, FCC Medio Ambiente is committed to the implementation of clean technologies, which is why the company is adding 22 units of vehicles with an Environmental 0 Label from the Directorate General of Traffic (DGT) into its fleet. To implement the contract, KIA NIRO plug-in hybrid vehicles (PHEV) have been purchased, adapted and transformed for industrial use with the corresponding approval from the Regional Ministry of Industry. In addition to the intelligent electric recharging installations that the company has in its central facility, additional charging points have been installed throughout the working area so that maintenance technicians can optimise their journeys and thus maximise effective working times. In this way, the workers start their day at the customer's own centre without having to go to the central installations, also contributing to minimising emissions into the atmosphere.
With this new milestone, FCC Medio Ambiente reinforces its commitment to the environment and to reducing its carbon footprint, while at the same time ensuring the operational availability of all its equipment in a 24-hour, 365-days-a-year service.
FCC Medio Ambiente serves over 60 million people in nearly 5,000 towns and has been providing municipal services and comprehensive waste management for over 100 years. The company provides cleansing and facility maintenance services to more than 5 million people, combining technology with personnel management and promoting the social and labour inclusion of vulnerable groups through Special Centres for the Protection of the Environment.