21/11/2019
FCC Environment winner of the World Smart City Awards in the Innovative Idea category
The award-winning project is a 100% electric modular chassis-platform for urban service vehicles.
This revolutionary equipment has been developed by a consortium led by FCC Environment and the Irizar group.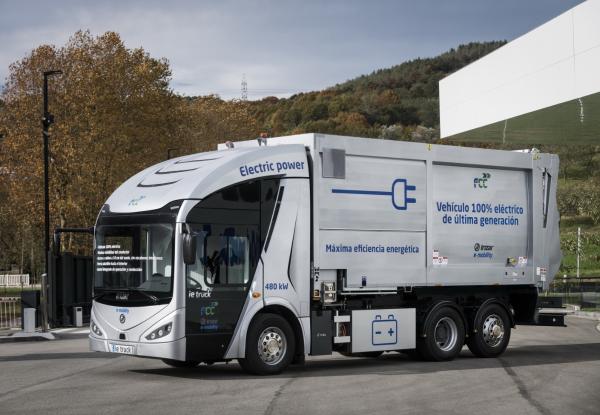 Within the framework of the Smart City Expo World Congress 2019, FCC Environment was declared winner of the World Smart City Awards in the Innovative Idea category for its affordable, versatile, self-supporting, high efficiency industrial platform for urban service vehicles. The company was awarded the prize in hard competition with several top-level projects. For FCC Environment this award represents a great recognition of the team work that has enabled the creation of this technology.
This 100% electric platform chassis has been developed by a consortium led by FCC Environment and Irizar group, and funded by European Funds in the framework of the programme CIEN by CDTI (Centre for Industrial Technological Development from the Spanish Ministry of Economy and Competitiveness.
The purpose of this project is to develop a self-supporting modular lorry chassis with permanent electric traction, plug-in function, high-power batteries and advanced low entry cab, suitable to all urban service purposes and economic due to industrial development.
The strategic objective of this platform is to facilitate the implementation of affordable electric mobility in urban services with huge environmental benefits: zero pollutant and noise emissions, reduction of carbon footprint and maximizing energy efficiency.
Both on account of its modularity, making it applicable to all kinds of functionalities and powers, and the durability of its components and the permanent electric transmission technology with consumption optimisation, this chassis offers municipal councils the urban vehicle of the future at an affordable way. The first platform application, already in operation, features a side-loading bodywork to collect waste, which means a 100% electric entire service (Zero Emission Vehicle ZEV) with the same performance as a conventional engine but around 50% the energy consumption and a drastic reduction in noise emissions, pollutants and CO2.
If necessary, it can be equipped with a CNG ancillary engine, which recharges the batteries at a constant speed of minimum energy consumption and emissions. It can also be designed as full electric or powered by a fuel cell.
For an estimate of 30,000 heavy-duty urban-service diesel vehicles, the environmental benefits would reach annually a reduction of around 1 million CO2 tonnes equivalent and energy savings of circa 9,000 GWh.
Innovation is in the DNA of FCC Environment, which has been researching about electric mobility for more than 45 years. It currently has a fleet of more than 16,000 vehicles, of which 821 units are electric and 1,305 of CNG or Bi-Power.