FCC Medio Ambiente awarded at the IV Diversity and Inclusion Awards - Best practice in labour inclusion / 4th CSR Master Plan 2018-2020 aligned with the SDG's
14/06/2021
FCC Medio Ambiente awarded at the IV Diversity and Inclusion Awards - Best practice in labour inclusion / 4th CSR Master Plan 2018-2020 aligned with the SDG's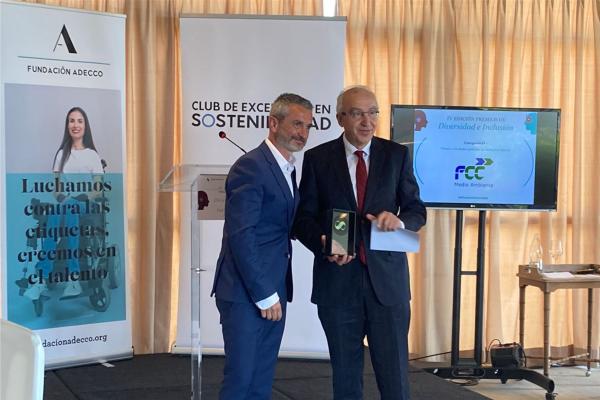 Under the honorary presidency of Their Majesties the King and Queen of Spain and promoted by the Adecco Foundation and the Club de Excelencia en Sostenibilidad, the IV Diversity and Inclusion (D&I) Awards have honoured FCC Medio Ambiente for best practice in labour inclusion for its 4th Corporate Social Responsibility (CSR) Master Plan 2018-2020, carried out in collaboration with "la Caixa" Welfare Projects. The Plan generates and promotes the employment of people at risk of social exclusion in the provision of services related to urban sanitation and event management. The programme is carried out through the 409 work integration entities that are part of the financial institution's social work.
The award ceremony was opened by Mr. José Luis Escrivá, Minister of Inclusion, Social Security and Migration, who stressed the importance of the values of diversity and inclusion for a society such as ours. Afterwards, Francisco Mesonero, CEO of the Adecco Foundation, and Juan Alfaro, CEO of the Club de Excelencia en Sostenibilidad, shared the keys to diversity, equity and inclusion strategies in the current framework.
Jordi Payet, CEO of FCC Medio Ambiente, accepted the award and expressed his gratitude for the recognition received by the company. In his speech he pointed out that in Spain there are more than 13 million people at risk of poverty and social exclusion, figures that have worsened because of the pandemic and that place us below the European average in terms of equality. FCC Environment's business strategy goes hand in hand with its commitment to the well-being and development of the communities in which it provides services, through the efficient and sustainable design, implementation and management of environmental services. The best way to improve people's lives is to contribute to their inclusion in the life of those communities through a job. Payet stressed that FCC Environment's 4th CSR Plan has been developed within the framework of the recently presented Sustainability Strategy 2050 and the Smart Human Environmental Services (SHES) provided by the company, with an emphasis on Resilience and compliance with the SDGs of the UN's Agenda 2030.
In the last three years almost 400 people from groups at risk of vulnerability have joined FCC Medio Ambiente thanks to inclusion policies and collaboration with specialised entities, such as the Incorpora programme of the "la Caixa" Foundation, or the ADECCO Foundation itself. The company's management seeks to facilitate the integration of people at risk or in a situation of social exclusion into the labour market so that they can access employment in line with their skills and motivations, in accordance with FCC Environment's strategic sustainability plan and in line with SDG 4, SDG 5, SDG 8, SDG 10 and SDG 17 which, reinforce the ideas of STABLE EMPLOYMENT, EQUAL OPPORTUNITES, RESILIENCE, INCLUSION and SOLIDARITY.
About the Club de Excelencia en Sostenibilidad
The Club de Excelencia en Sostenibilidad is a business association made up of a group of large companies that are committed to sustainable growth from an economic, social and environmental point of view, and it constitutes the reference forum in Spain for the dissemination and promotion of responsible practices. (http://www.clubsostenibilidad.org/)
About Adecco Foundation
Established in July 1999, the Adecco Foundation is the result of the Corporate Social Responsibility assumed by the Adecco Group as a world leader in Human Resources management. Its main objective is the insertion in the labour market of those people who, due to their personal characteristics, find it more difficult to find a job. (https://fundacionadecco.org/)