28/01/2022
FCC Medio Ambiente honoured at the 17th edition of the Sustainable City Awards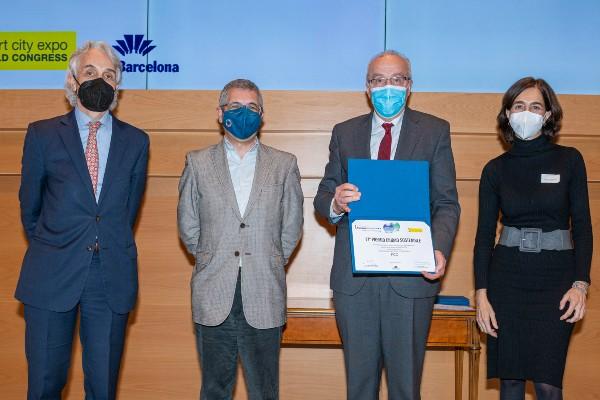 FCC Medio Ambiente has been honoured in the 17th edition of the Sustainable City Awards, which the Forum Ambiental Foundation has been holding for the past 18 years with the support of the Ministry for Ecological Transition and the Demographic Challenge and of Ecoembes. The award ceremony took place yesterday afternoon, 27th January, in the auditorium of the ministry. Jordi Payet, CEO of FCC Medio Ambiente, received the accolade on behalf of the company from Hugo Morán, Secretary of State for Environment. These awards seek to recognise the municipalities and supra-municipal local authorities that have made a commitment to projects and actions aimed at promoting sustainability.
FCC Medio Ambiente was a finalist ex aequo together with two other companies in the Public-Private Collaboration category for its Cultural Shift Plan in L'Hospitalet de Llobregat, for workers in the Waste Collection and Street Cleansing services. This programme aims, through coaching and empowerment, to stimulate the sense of Corporate Social Responsibility (CSR) and relational ecology of the workforce at all levels (from blue collar workers to service managers) and to encourage debate and proactive participation in all actions and proposals for service improvement. Workers themselves become true ambassadors of the services to the administration and citizens and become a transmission belt of their concerns for the optimisation of these services and thus advancing in the improvement of the sustainability of the cities.
This award means a recognition of the company's efforts dedicated to training and innovation in relations between its people and will be used to promote new programmes to raise awareness and promote sustainability among workers in other municipalities. By doing so, FCC Medio Ambiente continues to contribute to turning cities into sustainable and environmentally friendly spaces.