11/06/2020
FCC Medio Ambiente winner of the 'Bonus Prevention' award by Mutua Universal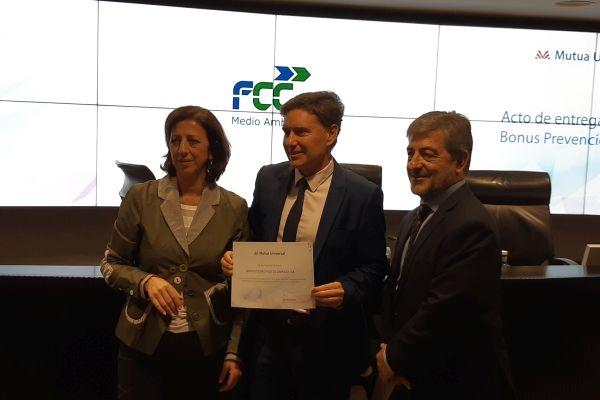 FCC Medio Ambiente has received the Bonus Prevention award granted by the Mutua Universal for the year 2018 for its excellent work in the area of prevention culture, in its commitment to reducing accidents and preventing occupational health and safety (OHS) risks. This is the second award achieved by the company after the one received for the year 2017.
Bonus Prevention is an incentive system granted by the General Directorate of Organisation from the Ministry of Social Security, through the mutual companies that collaborate with this entity, for companies that have effectively contributed to reduce occupational accidents and have carried out effective actions in the prevention of work accidents and professional illnesses, as regulated by Royal Decree 231/2017 of 10 March, published in the BOE of 24 March 2017.
Thanks to the endeavours of the Human Resources department of FCC Medio Ambiente, with the Bonus Prevention incentive system, 5% of the contributions paid for professional contingencies can be recovered; and up to 10% of the contributions in case there is some company's investment in any of the complementary actions for the prevention of occupational risks included in the responsible declaration on preventive activities, with the maximum limit of the invested amounts.
FCC Medio Ambiente is firmly committed to the health, safety and wellbeing of its employees, as a pillar of its business strategy and from its responsibility as a social agent.

Image caption: José Manuel Salgado, in charge of staff administration at the Human Resources department of FCC Medio Ambiente, receives the diploma of the Prevention Bonus for 2017.