30/04/2021
FCC Environment donates work clothes and footwear to Norte Joven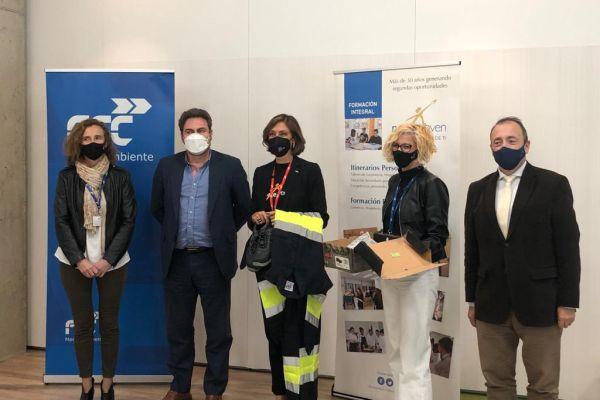 FCC Medio Ambiente, through the "Mejorando Vidas" ("Improving Lives") programme promoted by the Human Resources department, has collected work clothes and security footwear in disuse and perfect condition and, in order to give them a second life, has donated them to Norte Joven, an association with which it has a collaboration agreement regarding job placement since 2017.
The donation took place at a ceremony held at Las Tablas corporate headquarters of FCC Medio Ambiente, which was represented by Luis Suárez, Human Resources Director; Raquel Losada, Equality, Diversity and Inclusion Manager; and Juan Carlos Inglés, Procurement Director. Norte Joven was represented by Concepción Martín de Bustamante, member of the Board of Directors.
The event was opened by Luis Suárez, who emphasised the need to change the perspective and awareness of all the people who are part of FCC Medio Ambiente so that everyone can contribute.
Concepción Martín de Bustamante then expressed her gratitude to FCC Medio Ambiente for "changing the lives of 61 people who, thanks to this donation, will be able to go one step further on their way to employment". Martín de Bustamante also said that "few companies have the sensitivity that FCC Medio Ambiente shows to society". At last, she highlighted the need to be aware of youth unemployment and that any help is welcome.
During the ceremony, Juan Carlos Inglés applauded the great effort made by Norte Joven, "which is very necessary for society to move forward". Raquel Losada agreed with his words and added that the effort carried out by the association is admirable.
Norte Joven is a non-profit organisation, founded in 1985, which is dedicated to the social and labour integration of young people and adults in a situation of vulnerability, providing them with training so that they can simultaneously learn a trade, complete their basic schooling and acquire socio-professional competencies and skills, helping them in their access to employment, to develop themselves personally and socially and becoming part of the labour market.
The "Improving Lives" programme, promoted by FCC Medio Ambiente's Human Resources Department, aims to promote a responsible and socially sustainable corporate culture, fusing activities related to the services provided by FCC Medio Ambiente and the attention to social needs, which contributes to improving lives. Through this programme, FCC Medio Ambiente reinforces its social commitment, in line with the Sustainable Development Goals, promoting access to employment for people with special difficulties of social and labour insertion.
About Norte Joven
Association Norte Joven is a non-profit organisation founded in 1985 and declared of Public Utility in 1993. It is accredited with the Fundación Lealtad seal for complying with the 9 criteria of Transparency and Good Governance and has a Policy for the Protection of Children and Vulnerable People.
A benchmark in comprehensive and personalised care for young people and adults in vulnerable situations. A flexible training and intervention model with a strong employment guidance component, which achieves improved employability and job placement.
If you want to know more about Norte Joven: https://nortejoven.org/