13/09/2019
FCC Environment and Lincolnshire County Council celebrate 'one million tonnes' milestone at their recycling and energy recovery plant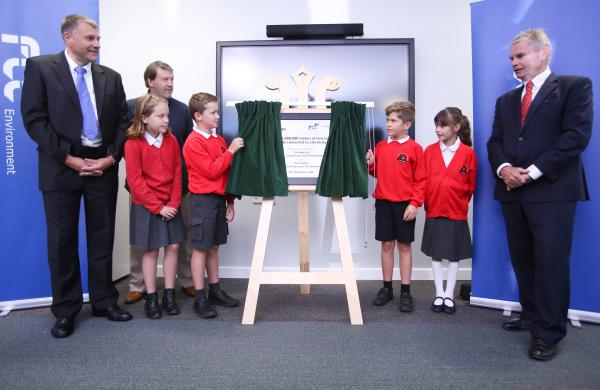 The Recycling and Energy Recovery Centre (RERC) in North Hykeham (Lincolnshire), developed and operated by FCC Environment UK, the affiliate of FCC Servicios Medio Ambiente in UK, has reached the great milestone of processing one million tons of residue. Thus, the amount going to landfill has been reduced by 93% and about 180,000 tons are processed annually and converted into 554,000 MWh of energy for the region, enough to supply 29,000 homes, while creating jobs and valuable community support for the county.
To mark the occasion, Lincolnshire County Council (LCC) and FCC Environment hosted a special event at the EfW plant where a commemorative plaque was discovered along with a floral arrangement. Guests included representatives of the county and FCC and St Andrew's C of E Primary School, Sleaford – winner of the EfW's 'Waste-Free Lunch Challenge 2019'.

Over the years, Lincolnshire EfW has given valuable support and learning experiences to its local communities. The plant has hosted a range of initiatives – such as open days, the Lincolnshire Young Environmentalist Award and the waste-free lunch challenge with local schools.

LCC is six years into its 25-year partnership with FCC Environment for residual waste collection, treatment and transfer in the county, during which time the North Hykeham site has performed above and beyond expectations in delivering significant environmental and cost-saving benefits. It is expected that the plant save the County Council approximately £30 million over the lifetime of the contract by drastically cutting the waste which would have otherwise gone to landfill.
The Lincolnshire facility features a state-of-the-art flue gas cleaning and emission monitoring systems and incorporates modern, reliable and well-understood combustion and pollution abatement technology, exceeding the Environment Agency's standards.
To find out more about Lincolnshire, and to book your place on an open day or for a group or school visit, visit lincolnshire.fccenvironment.co.uk.