30/07/2021
FCC Medio Ambiente collaborates with the Balearic Islands Employment Service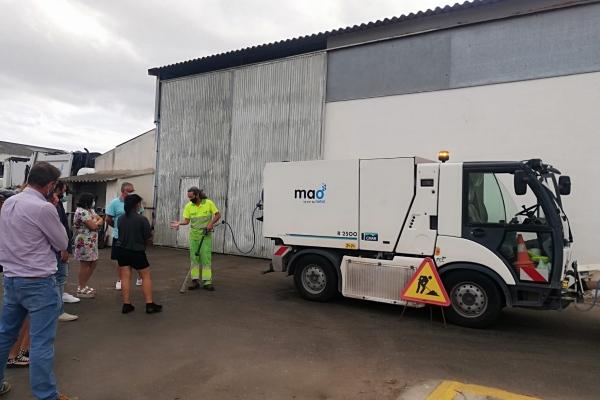 FCC Medio Ambiente has collaborated with the Balearic Islands Employment Service (Servei d'Ocupació de les Illes Balears, SOIB – in Catalan) by giving workshop-visits to students of the SOIB 'Sant Lluís 30 2020' Training and Employment Programme.

FCC Medio Ambiente provided training to students taking the "Cleaning of Surfaces and Furniture in Buildings and Establishments" Certificate of Professionalism (CP) and partially the "Cleaning in Open Spaces and Industrial Facilities" CP. All this combined with the cleaning of municipal spaces. During the session they were able to complement their training by learning first-hand how the urban services of Mahón on the island of Menorca are managed.
Luis Fernández Fernández, Service Manager in FCC Medio Ambiente was in charge of leading these visits where students were able to see how the different municipal services the company provides to the municipality work, the complexity of the services, and the large infrastructure needed to carry it all out; and they got to know some of the important staff who make this essential service possible.
Marta Mas Guerra, SOIB 'Sant Lluís 30 2020' coordinator of the Sant Lluís City Council, expressed her satisfaction with the visit, praising the accuracy and professionalism of the explanations and thanking the excellent treatment received.
The Sant Lluís 30 2020 Programme is a training and employment programme financed by the Balearic Islands Employment Service with funds from the Sectoral Conference on Employment and Labour Affairs, managed by the Sant Lluís City Council. It is aimed at people aged 30 and over, registered with the SOIB as unemployed job seekers. Moreover, recipients must meet the requirements of the certificate of professionalism they are taking and be eligible for a training and apprenticeship contract.

The main purpose of the SOIB, the Balearic Islands Employment Service, is to plan, manage and coordinate the active employment policies; and its assigned functions are to inform, guide and carry out intermediation in the labour market, to promote employment and develop vocational training.