FCC Medio Ambiente is awarded the new waste collection and ground maintenance contract in Arcos de la Frontera (Cádiz, Spain)
18/06/2021
FCC Medio Ambiente is awarded the new waste collection and ground maintenance contract in Arcos de la Frontera (Cádiz, Spain)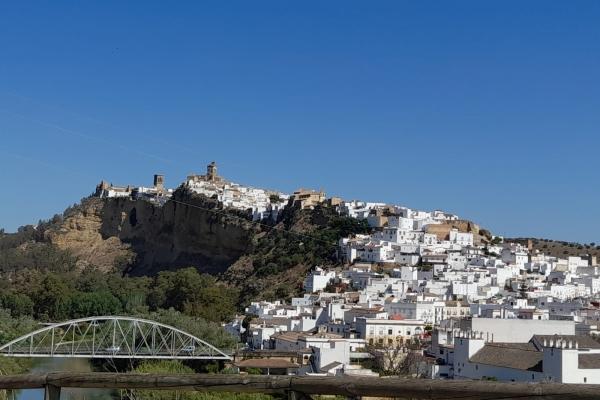 Arcos de la Frontera (Cádiz) City Council has awarded the Arcos joint venture, led by FCC Medio Ambiente, the new waste collection and ground maintenance contract. The contract, which began in June, foresees a term of 10 years and represents an order book value over €28 million.
With the aim of serving the municipality's 30,818 inhabitants and collecting around 13,000 tonnes of waste and 1,600 tonnes of recyclables (light packaging, bulky items, paper and cardboard and glass), the service will have a staff of 36 people and a brand-new fleet of 15 vehicles. In addition, the entire collection equipment and containers will be renewed, amounting to 745 units, and a household recycling centre will be set up which will serve the whole town and will be complemented by the implementation of a mobile recycling centre.
Among the features of the new collection service, it should be highlighted the transition from a rear-loading to a side-loading collection system, as well as the increased frequency of collection of selective fractions. As special news, Arcos de la Frontera will take part of a pilot project for the selective door-to-door collection of organic waste that is being carried out in several municipalities in the Sierra de Cádiz.
With the goal of maintaining 108,000 m2 of green grounds and tree-lined paved areas, the entire ground maintenance fleet and tools has been renewed. Arcos de la Frontera City Council, in its commitment to sustainability, has allocated budget to equip the irrigation network with water-saving measures, such as automation. The service will have a fleet of 9 vehicles and a team of 4 employees. The working programme includes an application plan for the treatment of the red palm weevil, rhynchophorus ferrugineus, which mainly affects palm trees.
On the social scope, it is worth mentioning that FCC Medio Ambiente has introduced in the municipality adapted containers for people with motor disabilities. In addition, to ensure that people get familiar with the new services and their characteristics, an initial awareness campaign will be carried out.
The services will be managed through the VISION digital platform, developed exclusively by FCC Medio Ambiente, incorporating the latest innovations that allow any incident that occurs to be captured immediately. One of the platform's most useful tools is the VISION2 mobile app, adapted for recording and communicating incidents in real time, as well as serving as a tool for inspecting the service itself. VISION has a wide range of possibilities for generating incidents, suggestions and/or complaints, and is designed to offer this possibility to all the agents involved and to all the users of the service.