FCC Medio Ambiente is awarded the new waste collection and street cleansing contract in Manilva (Málaga)
20/05/2021
FCC Medio Ambiente is awarded the new waste collection and street cleansing contract in Manilva (Málaga)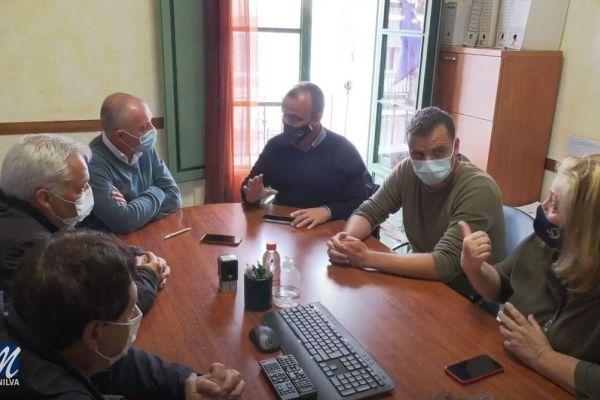 Manilva City Council (Málaga) has awarded the new waste collection and street cleansing contract to the Relima joint venture, led by FCC Medio Ambiente. The contract, which began in May, foresees a term of 10 years and an order book value worth over €21 million.
The contract was signed on 27 April at a meeting chaired by the mayor of Manilva, Mario Jiménez, who was accompanied by the councillor of cleansing, Francisca López, the councillor of Infrastructure and Works, Diego José Jiménez, and the councillor of ground maintenance, Francisco Becerra. On behalf of FCC Medio Ambiente attended the event Francisco José Cifuentes, director of the Andalucía II branch, accompanied by the chief of operations, Juan Antonio Pinazo.
Manilva City Council is committed to sustainability in this contract, which will incorporate 18 electric vehicles, including auxiliary vehicles, sweeping tricycles and supervision vans, and a large amount of electric machinery. This is a further step in the implementation of e-mobility in services, with an enormous positive environmental impact in terms of pollutant and noise emissions, carbon footprint reduction and energy efficiency. In addition, all machinery related to the contract will be newly acquired.
In order to collect over 9,200 tonnes of waste per year, the service will have a fleet of six vehicles, including collection, auxiliary and container-washing vehicles. It should be noted that a new collection system based on bi-lateral loading, will be implemented. The innovative system, compared to the rear loading, will optimise the use of operatives. This conversion has involved an investment in 223 brand-new bi-lateral containers.
Regarding the street cleansing service, in order to serve the 16,000 inhabitants of Manilva, 145 km of streets will be cleansed counting on an expected fleet of 22 vehicles, including auxiliary vehicles, sweeping tricycles and mechanical sweepers.
The contract will have a staff of 50 people and, regarding the social scope, it is important to highlight that 14 operative and sweeper staff positions have been assigned to disabled people, who will be hired through FCC Equal (a partner in the joint venture). In other topics, an initial campaign will be carried out to present the new services and ensure that citizens are fully aware of them and their features. Afterwards, annual public awareness campaigns will be organised.
As an additional new feature, the services will be managed through the VISION digital platform, developed exclusively by FCC Medio Ambiente. This platform allows to turn staff into information vectors in order to make it easy to immediately detect any incident that may occur. One of the platform's most useful tools is the VISION2 mobile app, adapted for recording and communicating incidents in real time, as well as serving as a tool for inspecting the service itself. The VISION platform has a wide range of possibilities for generating incidents, suggestions and/or complaints, and has been designed to offer such possibilities to all agents and users involved in the service.
(Picture: RTV Manilva. In the image, from left to right: Juan Antonio Pinazo, chief of operations (FCCMA); Francisco Cifuentes, director of the Andalucía II branch (FCCMA); Mario Jiménez, mayor of Manilva; Diego José Jiménez, councillor of Infrastructures and Works; Francisco Becerra, councillor of ground maintenance; and Francisca López, councillor of Cleansing).