FCC Medio Ambiente awarded the new contract for waste collection, street cleansing and ground maintenance in Las Rozas
01/02/2021
FCC Medio Ambiente awarded the new contract for waste collection, street cleansing and ground maintenance in Las Rozas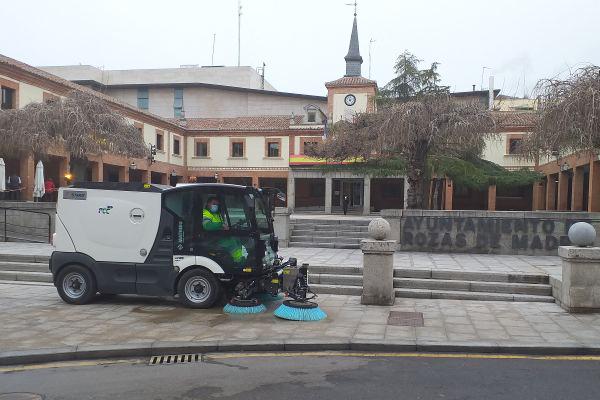 Las Rozas City Council (Madrid) has signed a new contract with FCC Medio Ambiente for municipal solid waste collection, street cleansing services and ground maintenance for a term of four years and an order book value of 47 million euro. The contract may be extended for one year, and the service started last January.
It is worth highlighting the City Council's commitment to reduce emissions and carbon footprint and thus make way for sustainable mobility, as nine electric sweepers for pavements and roads, three electric cars and a hybrid 4x4 vehicle for municipal supervision will be incorporated, as well as electric material and tools for ground maintenance.
A staff of 41 people and a fleet of 35 vehicles, all equipped with on-board computer and GPS, will provide the service for collecting and transporting more than 40,000 tonnes of waste per year. The progressive introduction of the container for the organic fraction of the waste is planned, which will be supported by public awareness campaigns on selective collection and the use of the aforementioned fifth container. The number of containers for the packaging, paper-cardboard and organic fractions will also be increased; and containers will be renewed on rural roads and disperse neighbourhoods.
The contract includes improvements in the service for all areas of the municipality, such as the increase of waste collection days in the main residential areas such as La Chopera, Molino de la Hoz, El Golf, Monterrozas, El Pinar and Las Matas. The number of containers will be increased and they will be underground in some areas; volumetric sensors will be installed and green waste collecting units will be put into service as well as 4 new mobile household waste recycling centres, which will have a staff of 10 people and a fleet of 12 vehicles and machinery.
As for the urban cleansing service, to attend to the more than 96,000 inhabitants of the municipality and cover the 700 linear kilometres of streets, the service has a fleet of 120 vehicles and machines and a staff of 152 people.
Regarding the ground maintenance, there will be a fleet of 165 vehicles and machines and a staff of 107 people. Every year 80,000 seasonal flowers will be planted in the area and, as new features, most of the mechanical equipment will be renewed and electrical machinery and tools will be implemented. The ground maintenance contract covers a surface area of 136 hectares of forest areas, 563 hectares of natural areas and 142 hectares of parks and gardens, making a total of 841 hectares. Las Rozas is one of the municipalities with the largest number of green areas in the Community of Madrid.
For the comprehensive management of the services, the VISION computer platform, developed exclusively by FCC Medio Ambiente, will be implemented. This platform makes it possible to turn operators into information vectors, so that it is easy to immediately capture any incident that occurs. One of the platform's most useful tools is the VISION2 mobile app, adapted for recording and communicating incidents in real time, as well as serving as a tool for inspecting the service itself. The VISION Platform has a wide range of possibilities for generating incidents, suggestions and/or complaints, and is designed to offer this possibility to all the agents involved and users of the service.