FCC Medio Ambiente awarded the new street cleansing contract in Arnedo (La Rioja) for the next ten years
12/04/2021
FCC Medio Ambiente awarded the new street cleansing contract in Arnedo (La Rioja) for the next ten years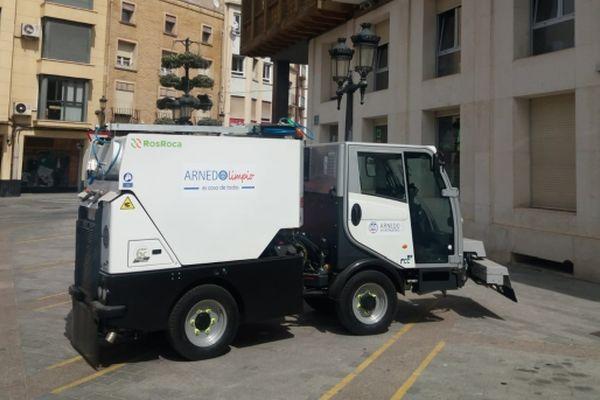 Arnedo Town Council signed with FCC Medio Ambiente the new contract for street cleansing in Arnedo (La Rioja) for a term of 10 years. The total order book value amounts to 4 million euro and service provision started in March. The contract includes the provision of street sweeping and washing services and also the collection of street sweeping waste.
Aligned with Arnedo Council's commitment to sustainable mobility, the new fleet of 8 vehicles will feature technologies aimed at reducing emissions and carbon footprint. Thus, there will be a 100% electric brigade vehicle and the rest will be prepared to be compliant with the European Union's Euro 6d standard as a minimum, in order to reduce NOx emissions. In addition, there will be electric machinery, such as blowers and brushcutters.
In order to serve the nearly 15,000 inhabitants of the town and provide the street cleansing service covering over 54 km of streets, the service will have a staff of around 12 people for the direct service and 6 people for support or indirect.
As part of its social commitment to inclusion, FCC Medio Ambiente has integration agreements with several organisation. However, the Arnedo service works mainly with Cáritas Chavicar to promote its integration policies through the inclusion of vulnerable people in the labour market. On the other hand, communication and public awareness campaigns will be developed in coordination with the Arnedo Town Council.
All the services will be organized and monitored through VISION, a comprehensive digital management platform developed exclusively by FCC Medio Ambiente, which allows to meet the objectives described, respond to the current requirements of the client and be prepared for future challenges.