06/09/2019
FCC Environment awarded the waste management and street cleansing contract in Jerez (Cádiz)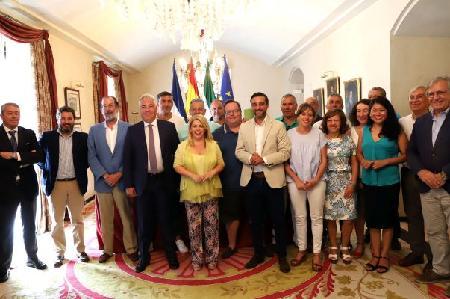 A joint venture led by FCC Medio Ambiente (the Spanish brand for FCC Environment) has been awarded the new contract for solid urban waste collection and street cleaning in Jerez (Cádiz, Spain).The joint venture includes FCC Equal, Special Employment Centre (SEC). The contract term is for nine years with a possible one-year extension. The total portfolio of the contract amounts to more than 186 million euros.
In order to serve the more than 212,000 inhabitants and collect around 88,000 tons per year of the different fractions, the waste collection service will renew the entire machinery fleet, which will include 13 side-loading lorries, eight rear-loading lorries and one container washer equipment. In addition, around 5,500 new containers will be installed during the month of September.
As for the street cleansing service, which covers nearly 700,000 linear metres without counting outer neighbourhoods, there will be a large number of vehicles and specialised machinery such as water tankers, auto washers, mechanical sweepers, a hydrocleaning van, back hoes, open-back tipping lorries, vehicles for transporting containers and new pavement scrubbers, among others.
FCC will employ 335 workers to carry out the services and 90 people with disabilities are expected to be hired. The company values the experience of the current staff, who will be subrogated. In terms of fixed facilities, there will be two main operating bases, one in the North Sector and another in the South Sector, as well as 14 auxiliary premises to provide local cleaning services. In addition, where their job requires it, employees may travel for road cleaning work on electric tricycles that will also carry electric tools.
As improvements, a greater frequency of cleaning is expected in the rural neighbourhoods and a greater supply of machinery with more sustainable vehicles, classified as "Zero Emissions" or "Eco" such as nine electric vans, six hybrid cars and 70 tricycles with electric auxiliary motors that will contribute to reducing environmental gas and noise pollution.
All the services will be organised and monitored through VISION, a digital management platform developed exclusively by FCC Medio Ambiente. In addition, the development of a mobile application for citizens to report their incidents is planned, as well as awareness-raising campaigns through agreements with environmental education companies and activities throughout the year in educational centres.
The new service will also have advanced technology such as geolocation, and will be operational from Monday to Sunday 365 days a year, serving all neighbourhoods equally. It will also have special services for the city's main events such as Christmas, the Horse Show, Easter or the Grand Prix, among others.