13/06/2022
FCC Medio Ambiente buys electric power with Guarantee of Renewable Origin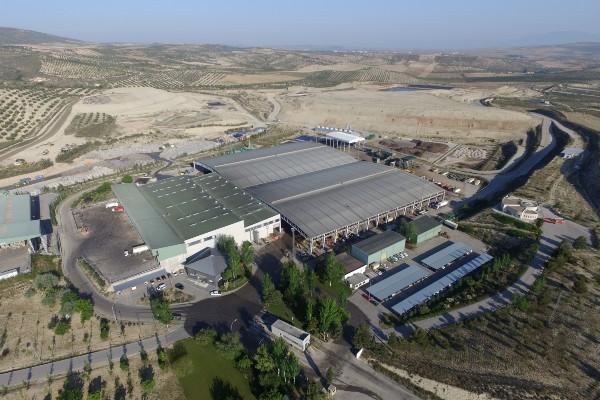 Within the framework of its 2050 Sustainability Strategy and its commitment to the fight against climate change, FCC Medio Ambiente has reached an agreement with Iberdrola to ensure that all electric power supplied to its most important waste treatment facilities comes from renewable sources and High Efficiency cogeneration, both CO2 and waste-free.
The waste management plants are the highest electricity consumption facilities in the company and, therefore, the work centres that contribute most to the scope 2 of the organisation's carbon footprint, which refers to the indirect greenhouse gases emissions associated with the generation of electricity acquired and consumed by the company. In order to reduce said carbon footprint, FCC Medio Ambiente has been for years promoting the self-consumption of renewable electricity produced at its own plants by using energy from waste. In 2021, this self-consumption accounted for 43% of the electricity consumed at the facilities.
To ensure that 100% of the electric power consumed in these centres is clean energy from renewable sources and, therefore, CO2 free, FCC Medio Ambiente has decided to purchase this energy with Guarantee of Origin.
The treatment facilities that have been supplied with electricity with a guarantee of origin are:
Cartagena Treatment Plant (Murcia)
Tudela Treatment Plant (Navarra)
El Campello Treatment Plant (Alicante)
Gomecello Treatment Plant (Salamanca)
Los Huertos Treatment Plant (Segovia)
El Barbanza Municipalities Association Treatment Plant (A Coruña, Spain)
Vélez de Benaudalla Treatment Plant (Granada)
Alhendín's Ecocentral Treatment Plant (Granada)
With this project, FCC Medio Ambiente seeks to boost the environmental axis of its 2050 Sustainability Strategy, in which it commits to reducing greenhouse gas emissions by 35% in 2030 compared to 2017, and to achieving carbon climate neutrality by 2050.
FCC Medio Ambiente thus takes another step towards reducing its carbon footprint, convinced that supporting and carrying out this type of projects is a good way of creating value for society in its fight against climate change and all the adverse consequences it entails.
The 2050 Sustainability Strategy is a 30-year business development roadmap that integrates very demanding objectives and commitments with high added value for the company and society as a whole, and which are integrated into four lines of action: environmental, social, excellence and governance.