04/02/2022
FCC successfully starts the Hillsborough County contract in Florida (US)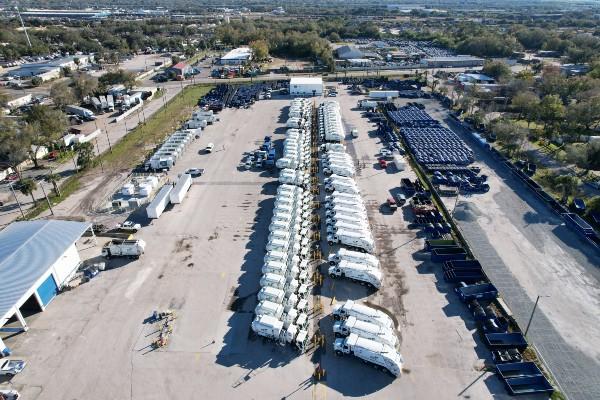 FCC Environmental Services, FCC Servicios Medio Ambiente's US subsidiary, started on 31st January 2022 its new contract for the residential and commercial solid waste collection in Hillsborough County (Florida). The contract comprises the Tampa metropolitan area, largest area in the county, and represents a total backlog of $380 million (€336.9 million) for the next 8 years, with potential extensions up to 4 years.
To service the county's 350,000 inhabitants in the awarded area and cover the commercial collection service, the company boasts a fleet of 96 trucks powered by Compressed Natural Gas (CNG) and a staff of more than 150 people.
FCC Environmental Services has built new facilities that include a state-of-the-art CNG refuelling station, a fully equipped repair and maintenance workshop and several administration and personnel buildings.
The contract was awarded at the beginning of June 2021 and once again, FCC Environmental Services has demonstrated its great capacity as a service company, being able to start the contract successfully on time, with no delays, despite the world crisis of the supply chain. The company reinforces thus its leadership in the state of Florida since, with this award, the US subsidiary will serve more than a million and a half inhabitants in the state.
FCC Environmental Services is the FCC Servicios Medio Ambiente's affiliate performing activities of waste collection, comprehensive solid waste management and recycling in the United States, currently present in the states of Texas, Florida and Nebraska. In recent years, it has accumulated a backlog of signed contracts in excess of $3 billion (around €2.65 billion) and services more than 8.5 million Americans.
FCC Servicios Medio Ambiente is the company within the FCC Group that has been providing municipal services for more than 110 years and serves over 60 million people in 5,000 municipalities. It carries out a wide range of activities for citizens, such as comprehensive waste management, street cleansing, ground maintenance or energy efficiency services, among others.