03/10/2022
FCC Ámbito takes part in the 4th National E-waste Congress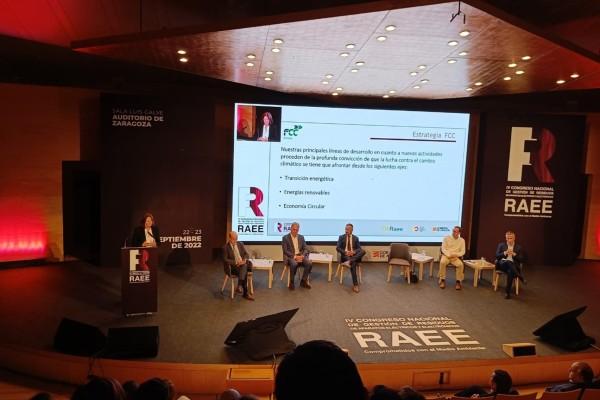 FCC Ámbito was present at the 4th National Congress on Waste Electrical and Electronic Equipment (WEEE or e-waste) held in Zaragoza on 22nd and 23rd September. Mª Jesús Kaifer, Chief Technical Officer (CTO) of FCC Ámbito, participated in the panel discussion "New WEEE recycling technologies" with a presentation entitled "Recycling photovoltaic panels".
In this presentation, FCC Ámbito presented its lines of development related to the energy transition and the need to find solutions when they reach the end of their lifespan.
As part of said FCC Ámbito's commitment, a project was presented for a photovoltaic panel treatment line in the province of Zaragoza, specifically at one of the glass recycling facilities that FCC Ámbito already operates in this province.
A common factor in renewable energy infrastructures is that they are made of highly technological, complex materials, specially designed to enhance their durability and to be able to withstand inclement weather during their long life cycles (25-30 years). This characteristic does not favour their recycling, due to the difficulty involved in separating the different substances of which they are composed. To face this challenge, FCC Ámbito has analysed different existing industrial solutions, in collaboration with the main technological centres in the country.
Among those attending the Congress were the different Extended Producer Responsibility Collective Systems (SCRAP, for its acronym in Spanish) related to e-waste, as well as representatives of national and regional environmental administrations, who, since this is "new" waste with great future development, showed great interest in learning about the initiatives promoted by FCC Ámbito, of which they highlighted their pioneering nature.
Once again, FCC Ámbito, fully aligned with the objectives of the fight against climate change and the principles of the circular economy, is leading an initiative for waste treatment that aims to obtain maximum recovery of the resources contained in them and reduce its disposal in landfills. FCC Ámbito has been involved in the management of e- waste for more than 20 years, and it is currently managing more than 40,000 MT/year in its own facilities and those of its subsidiaries.
FCC Ámbito is the affiliate of FCC Servicios Medio Ambiente leader in Spain and Portugal in the management of industrial and commercial waste, utilization of resources and soil decontamination. The transformation of the company to a Circular Economy society model is one of the headlines of the 2050 Sustainability Strategy of the FCC Group's environmental services area, a business development plan with a 30-year horizon with sustainability as the fundamental basis and which is backboned by four main axes: social, environmental, excellence and governance.