11/07/2023
FCC Medio Ambiente and FCC Ámbito develop solar energy installations at their recycling facilities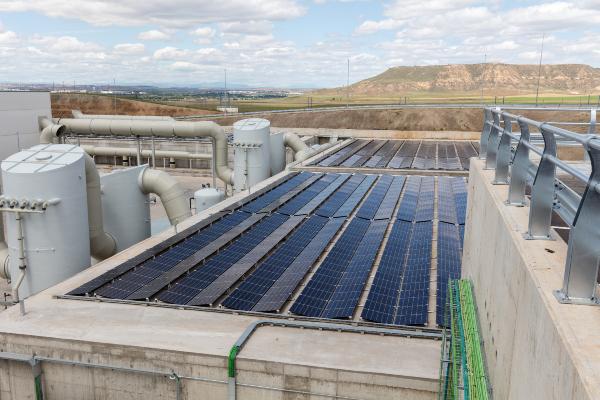 FCC Medio Ambiente and FCC Ámbito are making progress in achieving their objectives within the framework of their 2050 Sustainability Strategy and their commitments in the fight against climate change, more specifically in terms of energy savings and efficiency, the development of renewable energies and achieving carbon neutrality. Both companies, which within the FCC Group provide environmental recycling and comprehensive waste management services, whether municipal or industrial and commercial, are developing an ambitious programme for the installation of photovoltaic technology in all their environmental recycling compounds.
The waste treatment and recycling plants are the facilities with the highest consumption of electrical energy in the company and, therefore, the work centres that contribute most to the organisation's carbon footprint in Scope 2, which refers to the indirect Greenhouse Gas (GHG) emissions associated with the generation of electricity acquired and consumed by the company. To reduce this carbon footprint, FCC Medio Ambiente and FCC Ámbito have been promoting for years the self-consumption of renewable electricity produced in their own plants by recovering energy from waste. In 2022, this self-consumption accounted for 53% of the electricity consumed at the compounds.
In the last two years FCC Medio Ambiente has installed 8,500 m2 of photovoltaic panels with a capacity of 1,693 kW at its environmental centres in La Campiña (Loeches - Madrid) and Valsequillo (Antequera - Málaga), and throughout 2023 and 2024 it plans to complete the installation of more than 39,000 m2 of panels at nine facilities all around Spain, with an investment of over 5 million euros and 8,000 kW of power that will produce around 10,300 MWh of renewable energy each year, and which will reduce emissions by 2,800 tonnes equivalent of CO2 per year.
Regarding FCC Ámbito, it is finalising the installation of more than 4,000 m2 of photovoltaic panels with a power of 863 kW in 7 plants in Spain, which will produce 1,200 MWh of renewable energy each year and will reduce emissions by 324 tonnes equivalent of CO2 per year. The programme is under study to be extended to 11 other facilities with an additional 1,250 kW of power that will produce another 1,600 MWh of renewable energy each year.
With this project, FCC Medio Ambiente and FCC Ámbito are seeking to boost the environmental axis of its 2050 Sustainability Strategy, in which it is committed to continue fighting climate change and to reduce greenhouse gas emissions by 35% by 2030 compared to 2017, and to achieve carbon neutrality by 2050. In the three years of its green bond financing programme (Green Bond Framework, 2019-2021), 1.1 billion has been invested in green projects that have avoided the emission of 6.3 million tonnes of CO2. These efforts have been recognised by the Spanish Climate Change Office (OECC in Spanish), which in the last two years evaluated (2020 and 2021) has awarded the organisation the Calculo-Reduzco-Compenso (Calculate-Reduce-Offset) seal for CO2 emissions.
The 2050 Sustainability Strategy is a 30-year business development roadmap that integrates very demanding objectives and commitments with high added value for the company and society as a whole, and which are integrated into four lines of action: environmental, social, excellence and good governance.