28/02/2023
FCC Medio Ambiente signs an agreement with Tent Partnership for Refugees for the recruitment of Ukrainian refugees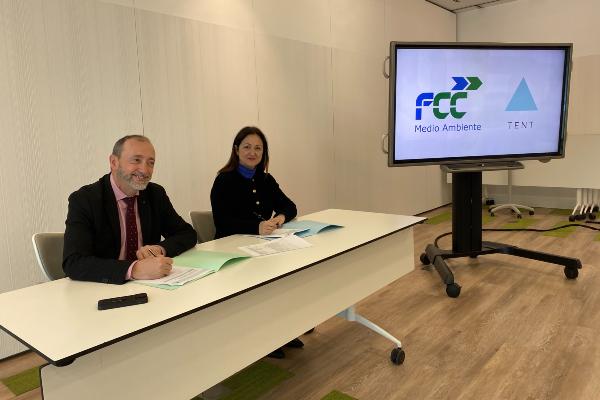 FCC Medio Ambiente has signed a collaboration agreement with Tent Partnership for Refugees (Tent) to fill a large number of positions with refugees from Ukraine in various locations in Spain. The signing event, held just a few days after the anniversary of the start of the Russian invasion of Ukraine, took place at the company's headquarters in Madrid and was attended by Amaia Elizalde, director of Tent Spain, and Luis Suárez, Head of Human Resources in FCC Medio Ambiente.
This collaboration stems from FCC Medio Ambiente's desire to help Ukrainian refugees in Spain, one of the European countries that has granted the most protection to citizens and residents of Ukraine. This initiative is not the only one launched by the company to alleviate the ravages of the conflict, as last December and January it carried out an internal campaign to raise funds and collect basic humanitarian supplies that were sent last week to the Ukrainian border with Poland.
This agreement continues within the company's line of solidarity action with the Ukrainian conflict, in place since 2022, when it signed an agreement with the Spanish Commission for Refugee Aid (CEAR) also for the recruitment of refugees, especially those displaced by the Russian-Ukrainian conflict.
"We are delighted that FCC Medio Ambiente has joined Tent," said Amaia Elizalde. "It is crucial for refugees to have economic independence in their host countries, and for this to happen, they need to be able to access decent jobs. After exactly one year since the beginning of the conflict in Ukraine and with more than 160,000 Ukrainian refugees in Spain, it is especially important that the private sector in our country takes a step forward to support the labour inclusion of refugees, following the example of FCC Medio Ambiente".
With more and more refugees displaced for long periods of time, businesses have a key role to play in helping them integrate economically into their new communities. The Tent Partnership for Refugees was founded in 2016 by Hamdi Ulukaya, founder and CEO of Chobani (a large US food company), to mobilise the global business community to improve the lives and livelihoods of the more than 36 million refugees who have been forced to flee their home countries. Today, Tent is a network of more than 300 major companies committed to refugee inclusion.