13/07/2022
FCC Medio Ambiente collaborates with the Association Manos de Ayuda Social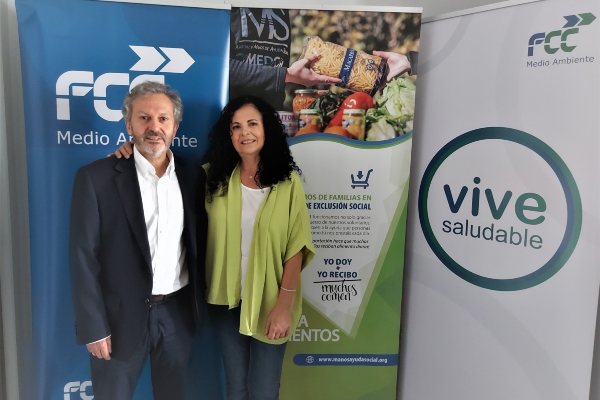 FCC Medio Ambiente, through its Madrid branch, has sponsored the works to enlarge the Family Meal Center of the Manos de Ayuda Social Association in the Vallecas district, covering the cost of the new warehouse.
The storage space was inaugurated on 8th July and will be used for the stocking of basic needs products that the association distributes to people and families affected by labour force adjustment plans, unemployment, business closures and unemployment caused by the COVID-19 health crisis.
After the completion of the works, the Madrid branch launched a Solidarity Campaign for the Collection of Basic Needs Products which, thanks to the funds collected from all the workers, has allowed the warehouse to be inaugurated full of food, personal hygiene and cleaning products, as well as food and baby care products.
The programme developed by Manos de Ayuda Social comprises three interrelated projects with the aim of covering other social needs. This way, all the people who receive food aid are also cared for and professionally managed during their stay at the centre with the aim of resolving their socio-economic situation so that they can maintain themselves without the aid as soon as possible.
This collaboration is part of the Commitment to the Community Programme that forms part of the Healthy Organisation Management System (SIGOS in Spanish) implemented in the Madrid branch, and is expected to be the beginning of many other collaborations with Manos de Ayuda Social to try to facilitate the enormous work they do.
In turn, these actions are part of FCC Medio Ambiente's 2050 Sustainability Strategy, a development plan with a 30-year horizon that integrates very demanding objectives and commitments with high added value for the company and society as a whole, and which are grouped into four lines of action: environmental, social, excellence and governance. More specifically, within the social axis, one of the company's objectives is the promotion of equal opportunities through the inclusion of groups at risk of social exclusion.