11/03/2022
Badajoz places once again its trust in FCC Medio Ambiente for the city's urban services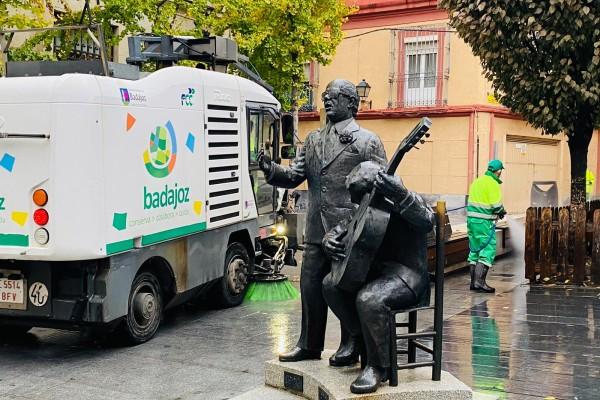 The Badajoz City Council has once again placed its trust in FCC Medio Ambiente with the extension of the street cleansing and waste collection contract that began in October 2010. The extension represents an order book value of €83 million for the next 8 years.
In order to continue serving the 150,000 inhabitants of the municipality, a very important part of the fleet of service vehicles will be renewed. The investments will include the construction and commissioning of a Compressed Natural Gas (CNG) refuelling station and the necessary electric recharging infrastructure within the machinery depot, as a large part of the new fleet of vehicles will be powered by CNG or electric, in response to the concern for sustainable development and respect for the environment of the City Council.
Regarding the collection service, a workforce of 100 people is provided for the collection of around 65,000 tonnes per annum of different waste fractions. To this end, the company has a fleet of 40 vehicles, 60% of which will be powered by CNG.
As for the street cleansing service, which covers 600 km of pavements and 400 km of mechanical sweeping, there is a staff of approximately 150 people and a fleet of 50 vehicles, a large part of which possesses ECO or Zero Emission environmental label, with electric and hybrid vehicles.
The services will continue to be organised and monitored through VISION, the comprehensive management digital platform developed exclusively by FCC Medio Ambiente, implementing new applications that allow for the control and optimisation of works and make it possible to interact in real time with the requests of the residents of the municipality.
In addition, dissemination and awareness-raising campaigns will continue to be carried out among citizens as they have been continuously throughout the contract. In recent years, these campaigns have focused on the mailing of awareness-raising information on actions such as the use of selective collection containers, clothes and used oil, information on the recycling centre, the cleaning of dog excrement and urine, or the use and delivery of litter bins for hotel and catering terraces, among others.