18/12/2020
FCC Medio Ambiente selected as one of the "101 Business Climate Initiatives" for 2020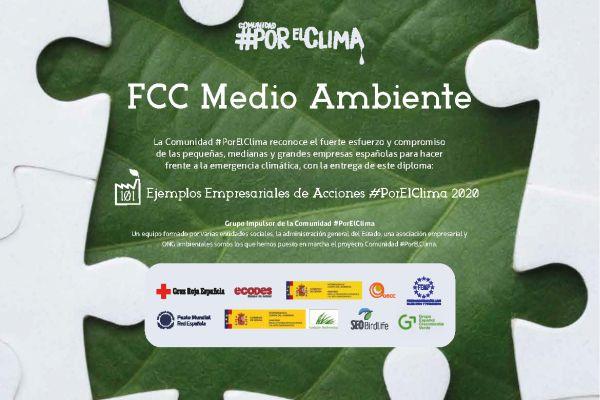 FCC Medio Ambiente has been chosen as one of the "101 Business Actions for the Climate" at the 2020 issue, thanks to its commitment to reducing the pollution that causes climate change on the planet through its actions, especially with its development of e-mobility vehicles, such as the 100% electric ie-Urban vehicle platform jointly developed with Grupo Irizar. This business industry is experiencing a complex time, and therefore participation in this initiative is even more valuable this year.
On last 15th December, an online event was held, in which the Community #ForTheClimate, promoters of the initiative, acknowledged all the actions and thanked all the participants for their commitment to the climate. The director of the Machinery Department of FCC Medio Ambiente, Antonio Bravo, received the certificate on behalf of the company.
During 2018, FCC Medio Ambiente finished the development of the ie-Urban, the first versatile and affordable e-mobility industrial chassis-platform for Citizen Service vehicles, that has made the winning of this prize possible. Thus, FCC Medio Ambiente consolidates its commitment to sustainability and innovation. It should be noted that this 100%-electric platform has received numerous awards, such as the Smart City Award 2019 from the Smart City Expo World Congress (SCEWC) in the category of Best Innovative Idea, or the European Business Awards for the Environment (EBAE) Spain in the section of Product 7 Service. The company has been researching electric mobility for over 50 years, and set its first 100% electric collection lorry in place in 1974. It currently has a fleet of over 16,000 vehicles, of which 821 are electric and 1,305 are CNG or Bi-Power.
The Community #ForTheClimate states that post-COVID-19 era opens the window to a better recovery that needs to be accompanied by a green recovery; and where business actions will need to address the climate approach as an essential vector of their business performance. The 101 Business Initiatives #ForTheClimate acknowledge the commitment and climate ambition of Spanish businesses, highlighting the ongoing actions in order to cope with climate emergency.