FCC acknowledges the Adecco Foundation for its work and support to women who are victims of gender-based violence
25/11/2020
FCC acknowledges the Adecco Foundation for its work and support to women who are victims of gender-based violence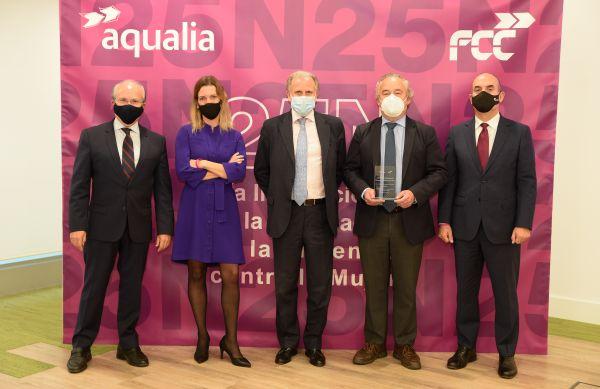 For the third year in a row, FCC has acknowledged and rewarded the work of different organisations and associations that fight against gender-based violence and protect women who are victims of this terrible social scourge. In this 3rd Edition, the award went to the Adecco Foundation, in recognition of its work and commitment to women who are victims of gender violence, helping them to gain employment as the main guarantee to normalising their lives. The award ceremony, opened by Javier López-Galiacho the FCC Group's Director of Compliance and Corporate Responsibility, took place this morning at the FCC corporate headquarters in Las Tablas, Madrid, as part of the events celebrating the commemoration of the International Day for the Elimination of Violence against Women.
The Managing Director of the Adecco Foundation, Francisco Mesonero, received the prize from Aqualia's Director of Communication and CSR, Juan Pablo Merino, who pointed out that this recognition awarded by Aqualia "makes the company's strategy tangible, as a result of its firm commitment to collaborating with other companies, public administrations and third-sector entities to overcome the social challenges we are currently facing. Here at Aqualia this cooperation is conceived to be the best way to comply with United Nations SDG 17 (Alliances for the purpose of achieving the objectives)".
Mr Mesonero gave thanks on behalf of the organisation for this award and recognition of the work and support that they have been providing for women who are victims of gender violence and in the fight against gender violence "For the Adecco Foundation it is a great honour to receive this recognition from a company like FCC, with which we have been collaborating for so many years, and with whom we share a common vision and values. This award is a great stimulus for us to strengthen more than ever our commitment to victims of gender violence, with employment being the best response to dignify and redirect their lives, in a context of great difficulties. We cannot think of a better way of doing it other than through alliances with committed companies that are involved in a challenge of such magnitude".
Today, and always, at FCC we defend equality between men and women and reject any act of violence. We need to work so that education and awareness of harassment and gender violence in all its forms reaches the entire population, regardless of their level of training. It is a joint task in which the sum total of all our efforts will show us the path to success.
As indicated in the ninth edition of the report published by the Adecco Foundation Employment versus Violence, concern about gender-based violence in Spain has shot up to 4.6% of issues mentioned in the barometer of the Sociological Research Centre (SRC), the highest since 2008. Furthermore, it indicates that trend for the number of gender-violence reports in our country is rising, with the score for last year being the highest on record in the entire historical series. However, in the first half of 2020, reports fell by 12.4%, a decrease that is often common in times of crisis when women find it more difficult to access protection resources or find a job that enables them to be financially and emotionally independent. After more than 20 years working for the inclusion in the labour force of those with the most difficulties, the Adecco Foundation is now aware that employment is the means par excellence to help unemployed victims of gender violence to regain dignity and control over their lives. It is an essential pillar for unemployed victims of gender violence to be able to normalise their lives, since it provides them with autonomy and economic independence, security and self-confidence, as well as enabling them to expand their social circle and improve their self-esteem. Undoubtedly, companies are increasingly aware of and committed to putting an end to this social scourge, and they are strengthening their commitment to achieving a society that is safe and free of gender violence.