14/01/2021
FCC Medio Ambiente's ie-Urban wins Spain's Ecological Industrial Vehicle of the Year 2021 award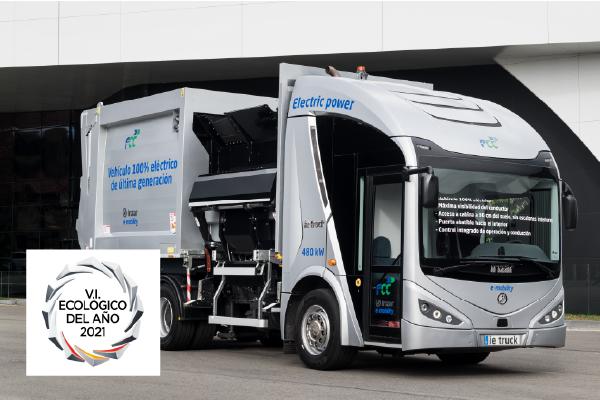 The 100% electric chassis-platform for Urban Service vehicles, ie-Urban, developed together by FCC Medio Ambiente and the Irizar Group, received the award for the Ecological Industrial Vehicle of the Year 2021 yesterday in the mixed category, at the National Transport Awards.

The award was given by the publishing house Grupo Editec, which has been organising the awards for 30 years, and counted on a jury made up of almost fifty transport professionals from our country and specialists from the automotive industry. Grupo Editec (https://www.editec.es/) publishes numerous specialized magazines within the transport industry, among others: Transporte 3, Viajeros, ATUC or AETRAM.
In the 2021 edition, a total of 63 models have been nominated in the 9 passenger and goods categories, out of which, 12 competed in the ecological industrial vehicle section.
It is important to highlight that this chassis-platform for urban service vehicles has received numerous awards, such as the World Smart City Awards in the Innovative Idea category, within the framework of Smart City Expo World Congress 2019, or the European Business Awards for Environment (EBAE) 2020 at Spain, in the Product / Service section. The company has been investigating on e-mobility for more than 50 years and it developed its first 100% electric collection truck in 1974. It currently has a fleet of more than 16,000 vehicles, out of which, 821 are electric and 1,305 are Bi-Power or Compressed Natural Gas (CNG).
The industrial series production of vehicles such as the ie-Urban collector on this Zero Emission Vehicle (ZEV) chassis, with a drastic reduction in noise emissions, pollutants and CO2 and 50% less energy consumption than a conventional vehicle, will definitely boost the implementation of affordable e-mobility on heavy goods vehicles suitable to all urban service purposes for all metropolitan areas, with the consequent environmental benefits in terms of pollutant emissions and noise, carbon footprint reduction and energy efficiency.
Innovation is in the DNA of FCC Medio Ambiente since its incorporation 120 years ago, and it continues to be committed to research and development in order to contribute to the transformation of cities, especially in the fields of e-mobility, development of the Circular Economy and Information and Communication Technologies.