FCC Medio Ambiente reinforces its presence in the East of Spain with the contract for solid urban waste collection and street cleansing in Elche
13/01/2021
FCC Medio Ambiente reinforces its presence in the East of Spain with the contract for solid urban waste collection and street cleansing in Elche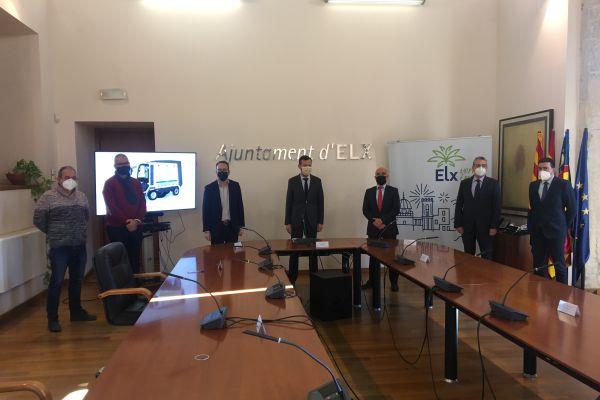 Elche City Council (Alicante) has awarded FCC Medio Ambiente, in a joint venture with another industry's company, the new contract of municipal solid waste collection and street and beach cleansing services for a period of ten years. The total order book value of the contract amounts to 255 million euro and it is expected to start in May.
The contract was signed yesterday, 12 January, in a ceremony chaired by the Mayor of the city, Carlos González, and attended by the Councillor for Cleaning and Modernisation, Héctor Díez, the Chairman of the Workers' Committee, Francisco Carrasco, the municipal engineer, Luis Tebar, and the representatives of the joint venture. The director of the Levante II branch, Ángel Garcillán, attended on behalf of FCC Medio Ambiente.
It is important to highlight that, with this contract, the City Council has committed itself to sustainability and all the vehicles to be incorporated will be electric or with Compressed Natural Gas (CNG) engines, which will undoubtedly result in a much cleaner urban environment and a reduction in the city's polluting emissions and carbon footprint. In order to make this possible, the appropriate refuelling infrastructure will be provided, as a gas station and an electric vehicle charging station will be built in the central facilities of the contract. In line with the municipality's sustainable policy, eco-labelled cleaning products will be purchased and a "Green Zone of Reduced Emissions" will be created in the historic centre of the municipality, prioritising the use of regenerated water and compostable bags. These services are in line with the objective of achieving the European Green Capital 2030 label for Elche.
In order to carry out the collecting and transporting service of more than 120,000 tonnes of waste per year, there will be a staff of 155 people and a fleet of 75 vehicles. All the service's vehicles will be equipped with computers and GPS and, as part of the contract, two mobile household waste recycling centres will be set up. The progressive introduction of the container for the organic fraction of the waste is also planned, which will be supported by public awareness campaigns on selective collection and the use of the aforementioned fifth container. The number of containers for the packaging, paper-cardboard and organic fractions will also be increased; and containers will be renewed on rural roads and disperse neighbourhoods.
With regard to road and beach cleansing services, to serve the 231,000 inhabitants and the more than 9 km of beaches in the municipality, the new service will have a fleet of more than 152 vehicles and 100 machines, as well as a total staff of 317 people. Among the improvements to the new service, it is worth highlighting the increase in manual sweeping and support by using mechanical sweeping and washing. The washing carts will have a GPS location system and will be supported by electric vacuum cleaners and ancillary vehicles, also electric, to improve efficiency.