20 years of FCC Medio Ambiente and Tiana City Council's commitment to the door-to-door household waste collection
29/06/2020
20 years of FCC Medio Ambiente and Tiana City Council's commitment to the door-to-door household waste collection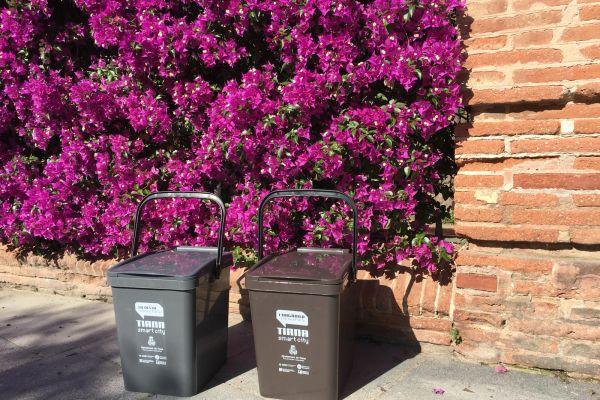 This June marks the 20th anniversary of the implementation of the door-to-door waste collection service by FCC Medio Ambiente (the Spanish brand of FCC Environment) in the municipality of Tiana in the province of Barcelona.
Tiana is a small town of 8,840 inhabitants located on the northeastern edge of the Metropolitan Area of Barcelona. With an extension of 8 km2, it has a low population density with mainly isolated residential structure.
In 2000, at the time of the conclusion of the existing service contract, the municipality transformed the traditional collection with containers into a mixed system with the implementation of the door-to-door separate collection of the organic fraction and the residual fraction, with household bins in homes. The selective collections for cardboard, packaging and glass remained on kerb containers on the street.
This change meant then leading, together with three other municipalities, a revolutionary selective collection system nationwide.
In a metropolitan area where even today the level of selective collection remains at 38%, the municipality of Tiana achieves rates of 82%. This pioneering and successful project made the Waste Agency of Catalonia to show it as a reference model to follow in all the municipalities where the urban structure makes it viable. To this day, there are already more than 200 municipalities in Catalonia that have implemented door-to-door collection reaching a selective collection rate of 61%, while in municipalities that do not have this model such rate is 36%.
The system has many variations in terms of the number of fractions collected door to door and emptying frequencies, being the use of five household-waste fractions the most usual alternative.
The key to success has been the involvement of the citizens with awareness campaigns about this change of technology and the continuous monitoring. At the same time, this model requires an accurate resource sizing, high level of personnel training and great delivery standards.
For the last 5 years, technological innovations have been introduced regarding service monitoring and data collection. These contributions are focused on container identification by means of RFID tags, where each collection can be identified individually, and the implementation of personal cards for the opening of closed containers at the emergency areas installed within the municipality.
This in turn, as could be expected, allows also individual collections for commercial premises (shops, restaurants, etc.).
As a result, FCC Medio Ambiente is once again, together with local administrations, playing a leading role in the implementation of new systems, methodologies and innovations that contribute to the continuous improvement of selective urban waste collection and sustainability as a whole.